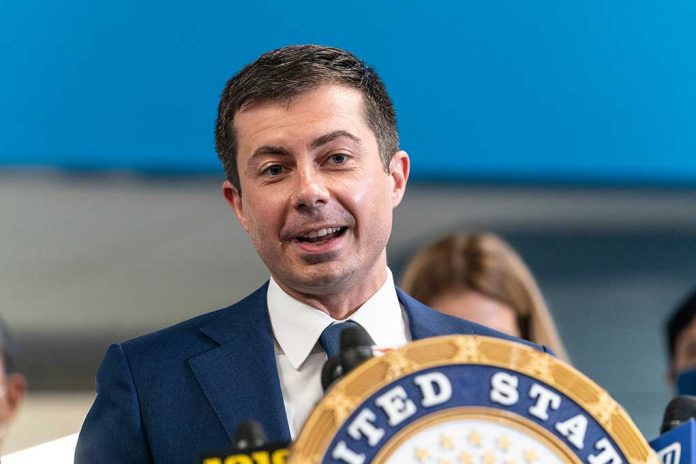 (WatchDogReport.org) – United States Secretary of Transportation Pete Buttigieg came to national prominence during the 2020 presidential Democratic party primary season when he brought his massive political creds as "Mayor Pete" of the relatively small city of South Bend, Indiana, population of ~100,000. President Joe Biden was obviously awed by his prolific résumé given that he chose to put him in his cabinet. However, his two years in that position have been marred by controversy, including the most recent to break — using a private jet operated by the military to transport himself and his husband Chasten to a sporting event.
.@SecretaryPete reportedly traveled to the Invictus Games last year with his husband, Chatsen, on a chartered military jet. https://t.co/80fBDrAUZV

— National Review (@NRO) January 5, 2023
Buttigieg was leading a presidential delegation to the Invictus Games in the Netherlands in April 2021, an Olympics-styled competition for wounded and sick soldiers and veterans. According to Fox News, which broke the story as an exclusive, the administration attempted to justify this expense because, according to a Department of Transportation (DOT) spokesperson, the group met with the US contingent for a photo op.
However, in 2017, Department of Health and Human Services (HHS) Secretary Tom Price, under former President Donald Trump, was forced to resign for similar activities because of political pressure over the "scandal." At least, that's how mainstream media portrayed the issue for that administration.
On a related issue, Senator Marco Rubio (R-FL) wrote a letter to DOT Inspector General (IG) Eric Soskin asking him to investigate Buttigieg for spending taxpayer money on private jets on at least 18 occasions.
Referencing another article by Fox News, Rubio noted that the Federal Aviation Administration (FAA) charges other agencies roughly $5,000 per hour to use the airplanes in its fleet, adding that if it is true, it is "yet another troubling example of this administration's continued willingness to skirt basic ethics rules." He went on to quote various regulations and guidelines, including those of the DOT itself, that say employees should view their travel arrangements as if they were shelling out the money themselves.
Unless Mayor Pete and his hubby regularly use a service like NetJets — where their entry point jet runs $8,200 per hour, minimum — it seems he may have crashed and burned in that department.
Copyright 2023, WatchDogReport.org