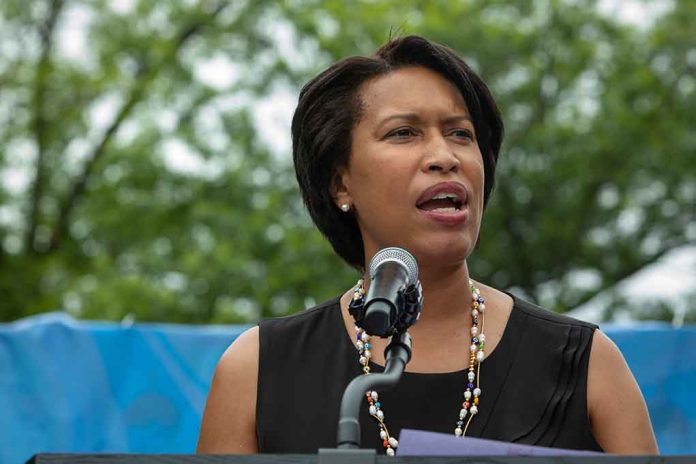 Request DENIED — Pentagon Drops the Hammer!
(WatchDogReport.org) – Done with the crisis at the border and the Biden Administration doing nothing about it, Republican Governors Greg Abbott (TX) and Doug Ducey (AZ) have taken to shipping illegal immigrants to Washington, DC, and New York. DC Mayor Muriel Bowser (D) has now asked for assistance in handling the influx and has been denied by the Pentagon — twice.
In a message dated November 14, 2016, Mayor Bowser assured her constituents the city's sanctuary status wasn't changing following former President Donald Trump's election win. However, now that the city is facing busloads of immigrants, she's asking the federal government to step in.
You can't have your cake and eat it too. Mayor Bowser is getting a taste of what every border community in Texas is experiencing.

Her hypocrisy is laughable.https://t.co/Yp74xMPm9k

— Rep. Pat Fallon (@RepPatFallon) August 23, 2022
Bowser's most recent plea came on August 11, where she asked for the deployment of the DC National Guard (DCNG) for a period not to exceed 90 days to help prevent "a prolonged humanitarian crisis." In the letter, she said the troops would help with logistics around DC and helping with migrant care. On August 22, the Pentagon denied this second request citing several reasons. Kelly Bulliner Holly, the Defense Department's executive secretary, noted that the DCNG troops are not trained for these purposes, and if they were sent, it would lead to a shortage should military activation become necessary.
The Pentagon also denied Bowser's request for use of the DC Armory, saying the facility isn't equipped to handle overnight stays without significant upgrades.
What do you think of Bowser's continuing pleas for aid?
Copyright 2022, WatchDogReport.org