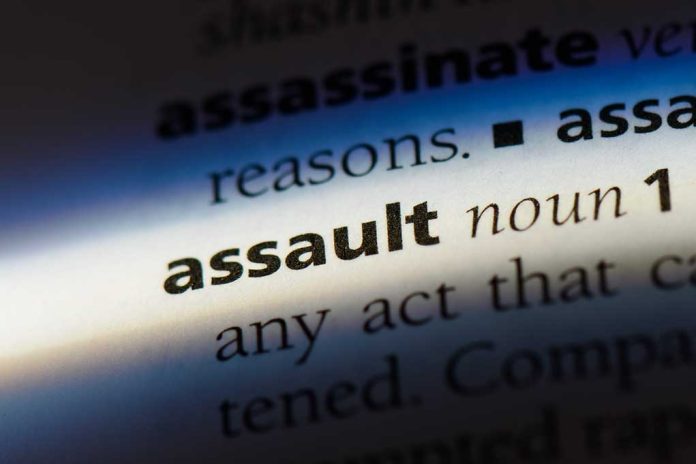 (WatchDogReport.org) – The adult daughter of an Orem, Utah, reporter assaulted the city mayor on September 19 by spitting on him, after different remarks he made against her journalist work during a City Council meeting. The video became viral soon after it was published on air.
The footage shows 31-year-old reporter Linnea Pugmire swinging and spitting against Mayor David Young while asking him why he said those words against her mother. In one part of the video, she can be heard yelling "How dare you," after spitting at Young and punching him, with the mayor grabbing her by her blue shirt. Following the altercation, Pugmire was arrested by local police while being filmed by reporters' cameras.
According to different reports, her mother Genelle Pugmire is The Daily Herald reporter, who many social media users have described as vocally "anti-Young." The Orem mayor has expressed on different occasions his issues not only with the newspaper's editorial stance against him but also with the way so many of its journalists report and write their headlines.
A couple of hours before the violent altercation with the reporter's 31-year-old daughter, Young addressed some of the newspaper's pieces in an Orem Council meeting. He told reporters and attendees that the latest articles were clearly "off the rails."
When asked about the content of the article, Young said that while public relations experts repeatedly told him to prevent going "down this path," he needed to make some comments about it because the situation had gotten to a "ridiculous" point. He then held up different articles he previously printed out and said he didn't want to make a "big deal" about their content but explained he felt he had to.
Following the meeting, the reporter's daughter approached him and a group of other people. After spitting and punching him, she asked the mayor if he had "any idea" who she was. After saying he didn't know, Young told her she was "disgusting" and that he was "sick" of always being "pushed around by your mother."
Copyright 2023, WatchDogReport.org