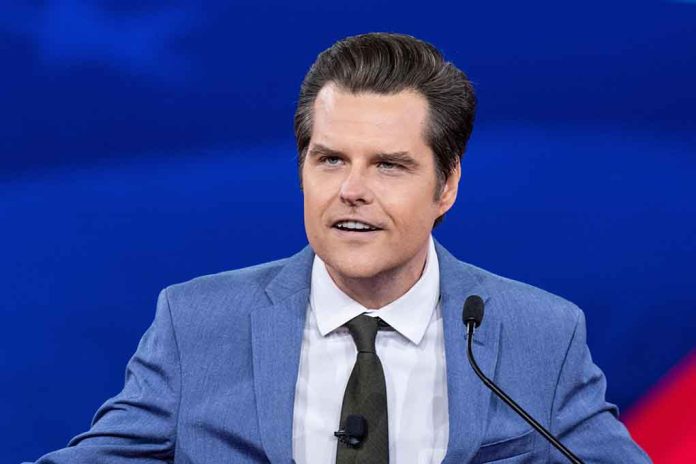 (WatchDogReport.org) – House Speaker Kevin McCarthy (R-CA) finally assumed his role as head of the lower chamber after a five-day, 15-ballot battle. Now that Republicans have formally assumed control of the House, McCarthy and his fellow GOP lawmakers have access to the complete set of materials amassed by the now-defunct select committee that spent the last 18 months investigating the January 6, 2021, riot. Representative Matt Gaetz (R-FL) recently indicated that Republican lawmakers plan to release thousands of hours of secret tapes to the public.
On Tuesday, January 10, Representative Matt Gaetz (R-FL) sat down for an in-depth interview with conservative radio host Charlie Kirk on a range of topics, including the January 6 investigation.
Kirk asked Gaetz if he anticipated "allowing the dogs to be released against… the Deep State." Gaetz responded in the affirmative, telling Kirk that Speaker McCarthy told House Republicans he plans to get "the evidence out in front of the American people." Elaborating, Gaetz said that means they will release 14,000 hours of recordings related to the January 6 inquiry.
Gaetz: Republicans will release "14,000 hours of [J6] tapes that have been hidden"

BAM!

Looks like truth about Pelosi's Fed-Op is going to be exposed even further!
pic.twitter.com/ybf3RSgoow

— DC_Draino (@DC_Draino) January 10, 2023
Republicans plan to release those recordings to provide proper context to the events of that fateful days instead of only presenting "cherry-picked" evidence presented in televised hearings by the Democratic-led select committee to "inflame and further divide" the nation.
McCarthy and other leading Republican lawmakers have also vowed to get to the bottom of numerous witch hunts launched by the Justice Department and FBI against former President Donald Trump and supporters of the MAGA movement.
For instance, House Republicans voted unanimously on Tuesday to create a new subcommittee to look into the weaponization of the federal government and anti-conservative bias by the DOJ, FBI, and various intelligence agencies. They also plan to investigate allegations the Justice Department targeted parents for pushing back against educators' efforts to teach Critical Race Theory to school children.
Representative Jim Jordan (R-OH) is set to head the new investigation as the head of the House Judiciary Committee.
Jordan is expected to have the power to issue subpoenas. Additionally, House Republicans are expected to empower the subcommittee to probe active federal investigations with the customary limitations.
Copyright 2023, WatchDogReport.org