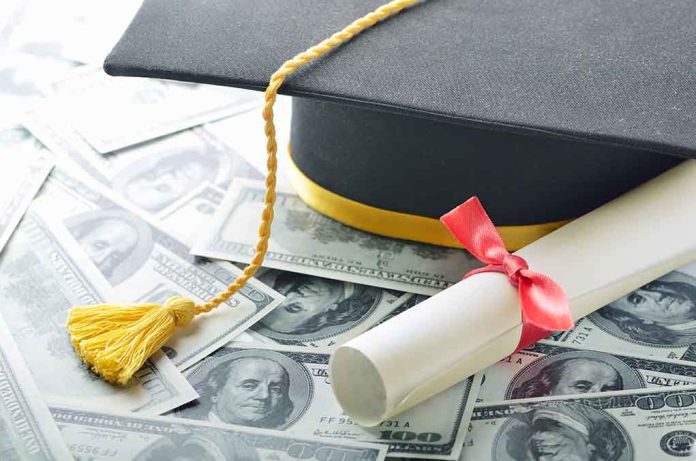 (WatchDogReport.org) – In 2019, headlines burst across the country when a number of rich and famous people got caught up in a scandal that revolved around their children's acceptance to high-profile colleges and universities. The man who was the driving force behind the whole mess, William "Rick" Singer, recently faced a federal judge who sentenced him to three-and-a-half years behind bars.
BREAKING: Rick Singer, who made $25M by helping rich parents bribe or cheat their children into elite colleges, was sentenced to 42 months in prison.

Parents involved in the scheme included Felicity Huffman (served 11 days) and Lori Loughlin (2 months of a possible 20 years). pic.twitter.com/bSsCxpeeTj

— AJ+ (@ajplus) January 4, 2023
In 2018, Singer found out that he was the target of "Operation Varsity Blues," a probe by the Federal Bureau of Investigation (FBI) into his plot. It involved the payment of bribes and falsifying the "resumes" of prospective students whose parents were willing and able to grease the skids. Included in the scheme were actresses Felicity Huffman of "Desperate Housewives" and Lori Loughlin of "Full House."
According to the Department of Justice (DOJ), Singer pled guilty to charges of racketeering, fraud, and money laundering on March 12, 2019, and agreed to help the government with its investigation.
Loughlin and her husband Mossimo Giannulli were indicted for conspiring with Singer to spend approximately $500,000 to get their two daughters enrolled at the University of Southern California (USC) by falsifying their athletic abilities as they related to crew (rowing).
After pleading guilty, Loughlin was sentenced to two months in prison, two years supervised release, and 100 hours of community service. She was also fined $150,000. Giannulli was sentenced to five months in prison, two years supervised release, fined $250,000, and must serve 250 hours of community service. Huffman pled guilty to mail fraud charges and was sentenced to 14 days in prison, one year of supervised release, a fine of $30,000, and 250 hours of community service.
Several dozen defendants have pled guilty, with sentences ranging from only probation to 30 months in prison and civil forfeiture of nearly $3.5 million.
Copyright 2023, WatchDogReport.org