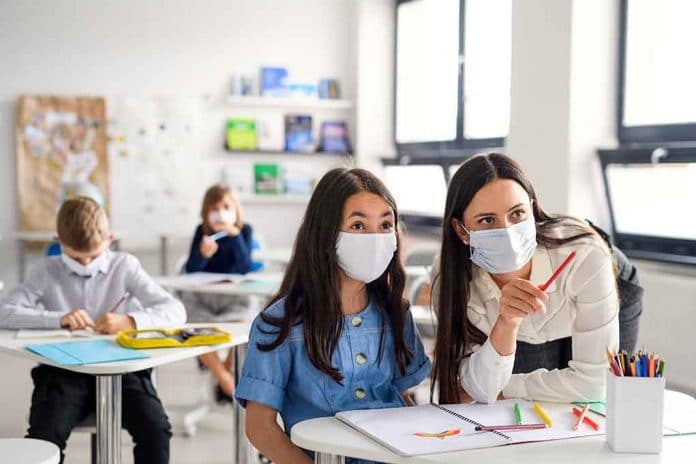 (WatchDogReport.org) – Former state Minority Leader and Democrat Stacey Abrams visited Glennwood Elementary School in Atlanta, Georgia, on February 4 for an annual Black History Month event. Apparently, Abrams has a problem following her own rules because she posed for a picture, maskless, while all the children sitting around her were forced to wear theirs due to the school's draconian mask mandate.
Back in July 2020, the gubernatorial candidate slammed Governor Brian Kemp (R-GA) for his mask mandate ban. Republicans were swift in pointing out her hypocrisy; Abrams is one of several left-leaning politicians who clearly don't practice what they preach.
Abrams tried to remove the picture from Twitter, but as we all know, you can never really delete anything once it's out there, and she was quickly called out for her actions.
Hi @staceyabrams and @hmbrookins, why did both of you delete these tweets? pic.twitter.com/6rdmT2iHIj

— Libs of TikTok (@libsoftiktok) February 6, 2022
Sadly, the only one who appeared unmasked in the photo was Abrams herself, as the adults in the room also appeared to have their faces covered. Former Georgia Senator David Perdue (R) released a statement after the incident asking the question everyone wants to know: "Where is Stacey's mask?"
Despite the obvious breach of the current rules, with photographic evidence, Abrams' campaign manager Lauren Groh-Wargo doubled down on their position, saying that the pro-mask advocate "trusts science and supports masking." She alleged Abrams only removed her mask for photo ops or if the students couldn't hear her. Are the children allowed to remove their masks? The photo of the masked children surrounding an unmasked Abrams speaks volumes about this entire situation.
The Democratic nominee has not personally responded to the widespread criticism of her actions.
Copyright 2022, WatchDogReport.org