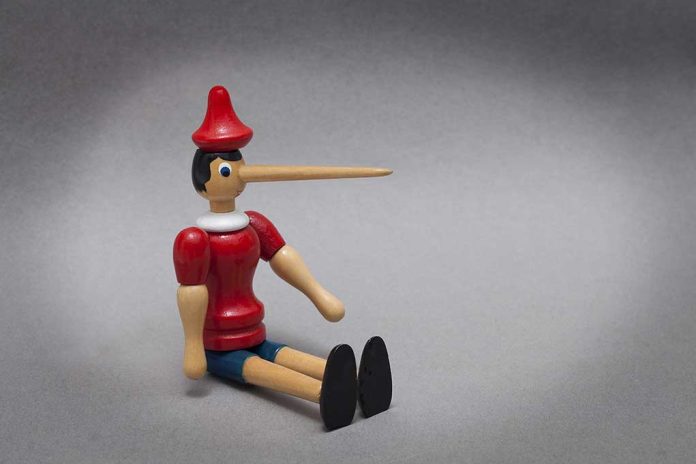 Kamala Harris ACCUSED… Ex-Official Steps Forward!
(WatchDogReport.org) – It's a commonly held belief that politicians lie, no matter which party they represent. It almost seems as much a fact of life as gravity. But when it comes to hiding human suffering and death, the American people deserve better from their leaders. Now, a former official from the Trump administration is accusing Vice President Kamala Harris of deceit.
Um No, Kamala
Almost from the Tuesday in November 2020, when it was said Joe Biden became president-elect of the United States, a human wave began moving north through Mexico, feeling they had been invited into the country. And his administration's policies — or lack thereof — have led to a humanitarian crisis at the southern border ever since.
Mark Morgan, the acting Commissioner of US Customs and Border Protection (CBP) under former President Donald Trump, is trying to sound the alarm. Despite what Vice President Kamala Harris and Department of Homeland Security (DHS) Secretary Alejandro Mayorkas have said about the border being secure and appropriately managed, the numbers do not seem to agree with them.
According to Morgan, the number of illegal crossings has skyrocketed under this administration, reaching over 200,000 encounters per month. The CBP statistics bear witness to this, showing more than 240,000 "enforcement encounters" in May 2022, while the total for 2019 and 2020 under the former administration was roughly 165,000 COMBINED.
Of course, open borders lead to more than just encounters.
Bodies Piling Up
It's no secret that those who try to travel from Mexico into the United States can literally face deadly dangers doing so. And logic dictates that as more people try to come across, more people will die in the attempt.
Quoting a Homeland Security official, a CNN report dated September 7 says 748 people have lost their lives at the southern border during the first 11 months of fiscal year 2022. That is almost 200 more than the previous record of 557 in the entire 12 months of fiscal year 2021.
Drug and Human Trafficking
Illegal aliens are not the only flood coming from Mexico. The drug cartels are pushing their poison through the sieve that is the border. Fentanyl is a synthetic opioid prescribed to treat severe pain in patients with an effect that can be as much as 100 times that of morphine.
More than a ton (2,100 pounds) of the powerful painkiller was seized in July, breaking a record previously put up in April this year when authorities took in 1,300 pounds of the pills. Over a five-day period in July in Calexico, California, agents seized 603 pounds of fentanyl and 187 pounds of methamphetamine with an estimated street value of $8 million.
Alaska's Republican Governor Mike Dunleavy wrote in an opinion piece for The Hill that 105,000 Americans lost their lives to drug overdoses in fiscal year 2021, with two-thirds (70,000) of those linked to fentanyl. China is also incriminated in this epidemic because most of the ingredients needed to make the opioid make their way into Mexico from there.
Another aspect of the human tragedy that unfolds at the border involves people, largely women and girls, who are transported in both directions and forced to become sex workers. Such was the story of a 15-year-old girl abducted by sex traffickers from a Dallas Mavericks game in May. Fortunately, she only had to endure a few days in their hands before being rescued.
Senator Roy Blunt (R-MO) lived up to his name while giving a speech on the Senate floor where he said, "[i]t's long past time for the administration to be honest with the American people about the crisis it's created and to do something about it."
Copyright 2022, WatchDogReport.org