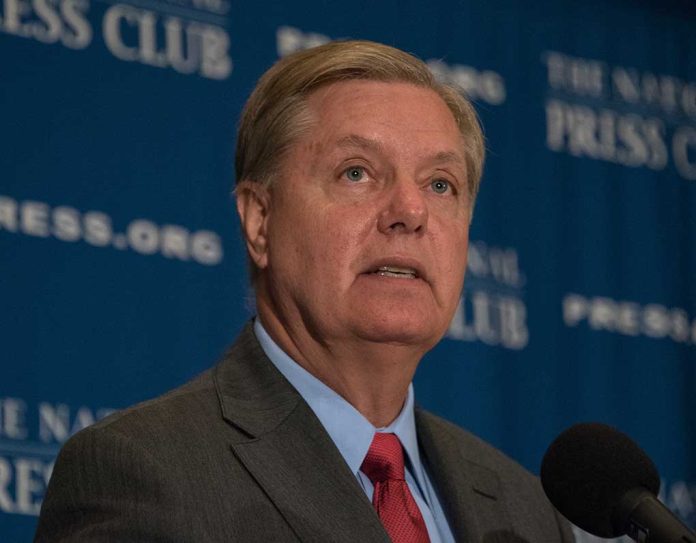 (WatchDogReport.org) – The chaos of the 2020 election is still causing rifts in Washington. Senator Lindsey Graham (R-SC) is attacking the Left's go-to argument of racism against Republicans for anything they try to do. He's even turning the tables on them with their attempts at election reform via the For the People Act (FTPA). Now, Graham is going after the president.
The Biden Administration's newest target is the Election Integrity Act of 2021, recently passed in Georgia. Graham reacted to Biden's comments calling the law "Jim Crow in the 21st century." Apparently, this is because it requires proper identification for absentee voting and limits drop box locations, among other changes.
On Sunday, March 28, Graham struck back at Biden's comments in a live interview with Fox News, saying it is "sick" for the POTUS to always use "the race card." He went on to say "what's sick is" the For the People Act. He also reiterated the real problem: he believes the FTPA violates the Constitution.
ICYMI: @LindseyGrahamSC discusses new voter laws as some question recent voter restrictions that were signed into law in Georgia. #FoxNewsSunday pic.twitter.com/wYXSapamGu

— Fox News Sunday (@FoxNewsSunday) March 28, 2021
The For the People Act may have passed the House in early March, but the battle over election reform is far from over. The contentious bill has yet to pass in the Senate — a tough sell given the current 50-50 split in support. Furthermore, Democrats would have to change the rules to stop any associated filibusters or make FTPA a budget bill, both of which seem unlikely as of now.
Copyright 2021, WatchDogReport.org