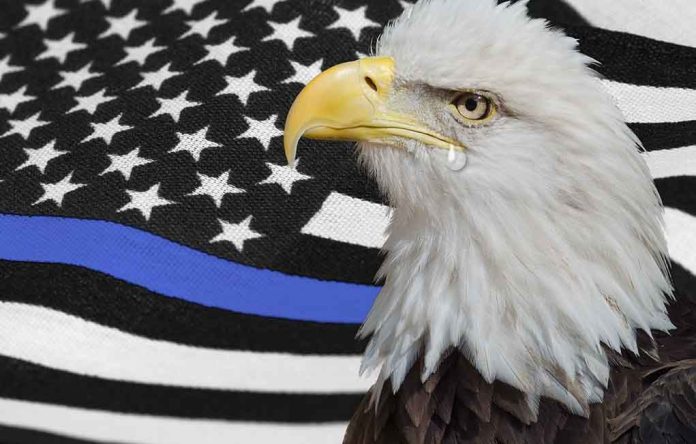 (WatchDogReport.org) – With so many soft-on-crime mayors and district attorneys in some of the Democratic-led cities, it seems the idea of law and order has become passé. In a move portrayed as anti-police by many, the Los Angeles Police Department (LAPD) Chief Michel Moore ordered that the "thin blue line flag" be removed from public areas in all of its buildings.
The Thin Blue Line
In February 1923, then-New York City Police Department (NYPD) Commissioner Richard Enright gave a luncheon speech at the Canadian Club, where he expressed his concern that there were only 1,700 police officers to patrol the city's streets. And even though the city was seeing a reduction in crime, he still warned the thin blue line that stood between the criminal element and the law-abiding citizens was close to its breaking point.
Typically, the flag is a black-and-white representation of the stars and stripes, with the white line directly under the field of stars changed to a vibrant blue. It was created by Andrew Jacob of West Bloomfield, Michigan, when he was a college student in 2014.
His reason for designing the flag and establishing a company to distribute it came when he saw the bravery of the officers standing up against rioters — or "peaceful protesters" as Democrats called them — following the deaths of Eric Garner, Michael Brown, and Tamir Rice.
LAPD Orders Removal
The flag was displayed in a single station's lobby and drew complaints, which inspired Moore to order its removal. In a statement, he said, "it's unfortunate that extremist groups have hijacked the use of the Thin Blue Line flag to symbolize their undemocratic, racist, and bigoted views," according to Fox News. However, he also said that lobbies should be "free of political ideology" and a safe space for citizens, a statement that was met with pushback from the Los Angeles Police Protective League, a union representing more than 9,000 LAPD officers.
Its board of directors wrote in a statement that it "vehemently" opposed the removal, calling it nothing more than a "politically pandering directive." Further, the union contradicted Chief Moore's suggestion that the flag was divisive, saying it's a "symbol of unity." Officers are still permitted to display the flag in their workspaces, lockers, and personal vehicles.
The LAPD is not the first to banish the symbol from public view. In January 2021, the University of Wisconsin-Madison police chief forbade officers from displaying the thin blue line flag while on duty.
Copyright 2023, WatchDogReport.org