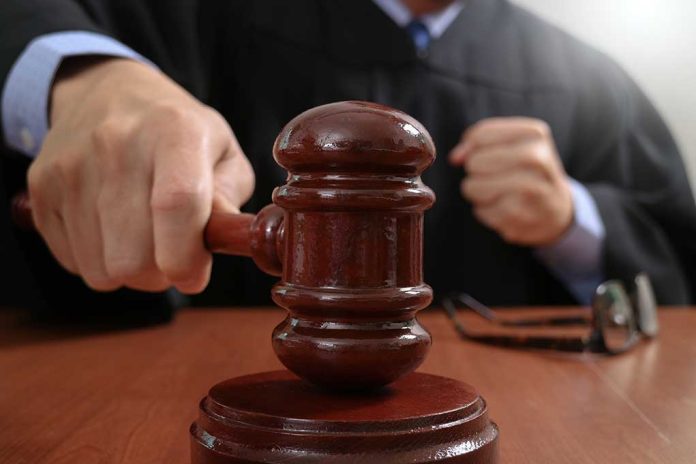 Judge SHUTS DOWN Joe Biden's Latest Scheme
(WatchDogReport.org) – On May 20, 2020, the then-Director of the CDC, Robert Redfield, at the instructions of former President Donald Trump used the Public Health Services Act, 42 USC §265 (Title 42) at the start of the COVID-19 pandemic. The progressive segments of the Democratic Party have been urging President Joe Biden to allow it to expire; he was set to do so on May 23, but a federal judge in Louisiana preempted that and ordered it be left in effect because such an order would likely violate the law.
Title 42
The law says when there is a clear danger that people or property coming in from another country increases the chance of a communicable disease spreading into the country, the president "shall have the power to prohibit, in whole or in part, the introduction…" of them. The original order said that holding facilities where "aliens who lack valid travel documents" can be held for days at a time. However, border stations weren't equipped to handle potentially infected people, so they could be turned away from land crossings in Mexico and Canada.
On April 1, 2022, the CDC issued a public statement saying it was terminating the policy, but delaying it so that the Department of Homeland Security (DHS) would have the chance to "implement additional… mitigation procedures." It said that because 97.1% of the US population were in counties that were considered to have "low" levels of the disease, the original emergency had abated.
It should be noted, however, that the same CDC published its weekly summary on the very same day that the judge issued his ruling, and the statistics there seem to contradict its argument. It says cases and hospitalizations are rising across the United States and that only 54% of the population is in the "low" category, which is an extreme drop from the 97.1% that they claimed on April Fools' Day. And that ain't no joke.
The Lawsuit
In total, 25 states eventually joined the lawsuit that ended up in the courtroom of Judge Robert Summerhays, saying that the expected flood of illegal aliens would quickly overwhelm public services, including the cost of healthcare for those coming across. In summarizing the facts of the case, he noted that the Biden administration did not dispute the fact that there are roughly 25,000 migrants essentially waiting to rush the border when title 42 ends.
The judge determined that the states would suffer "immediate and irreparable harm" if the regulation is allowed to expire and that it would be in the public interest to issue the injunction. The Department of Justice (DOJ) immediately issued a press release saying it's appealing the decision by Judge Summerhays.
While this is a win for the states hoping to keep at least some pressure off of their available resources, it can be seen as somewhat of a victory for President Biden as well. The Leftists have vowed to keep the pressure on to cancel Title 42, while a recent Politico-Harvard survey indicates 55% of Americans want to keep it in place, so he can essentially wash his hands of the decision and say, "take it to the judge."
Copyright 2022, WatchDogReport.org