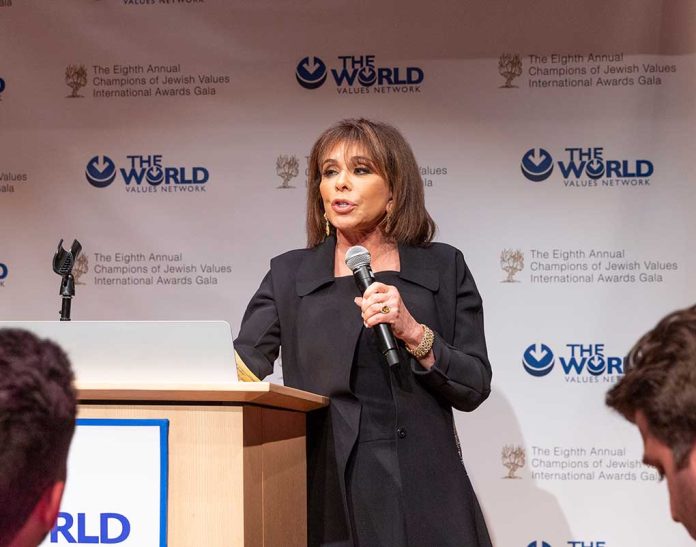 Judge Jeanine Torches Kamala Harris, Calls Her a "Disaster"
(WatchDogReport.org) – A popular TV judge has slammed Vice President Kamala Harris, branding her a "catastrophe." Judge Jeanine Pirro took aim at Harris's dismal record on border security and accused her of lying about the situation.
"Look, I don't know how the woman gets out of bed and faces the world. She is a catastrophe,"https://t.co/G6JmWlj2B0

— Daily Wire (@realDailyWire) October 12, 2022
On the October 5 edition of Fox's "The Five," Judge Jeanine slammed Harris' recent claim that the US-Mexico border — where illegal immigrants and lethal drugs are flooding into the country — is secure. She said anything Harris said after that could be ignored because it's obvious she's lying. Pirro was also critical of Harris' attempts to blame the border mess on Republican governors and former President Donald Trump, who actually made an effort to stop the illicit traffic.
Harris is famously reluctant to even visit the border, although last month, Texas Governor Greg Abbott (R) tried to make her face up to the situation by sending two buses of illegals to her home in Washington, DC.
Pirro said she doesn't know how Harris "gets out of bed and faces the world," continuing, "she's a catastrophe." She joked that Harris should quit appearing on serious talk shows and schedule herself for "The Five" co-host Greg Gutfield's comedy show instead. The judge also pointed out Harris' hypocrisy in claiming to love President Joe Biden, noting how, during the 2020 presidential primary, she had savaged Biden over his record on race relations.
Everybody knows Joe is a disaster and you're a disaster too! #TheFive pic.twitter.com/WdVNanb6pL

— Jeanine Pirro (@JudgeJeanine) October 11, 2022
Judge Jeanine presented a hard-hitting lust of Harris' failures. Did she go too far, or is the vice president every bit as bad as Pirro says?
Copyright 2022, WatchDogReport.org