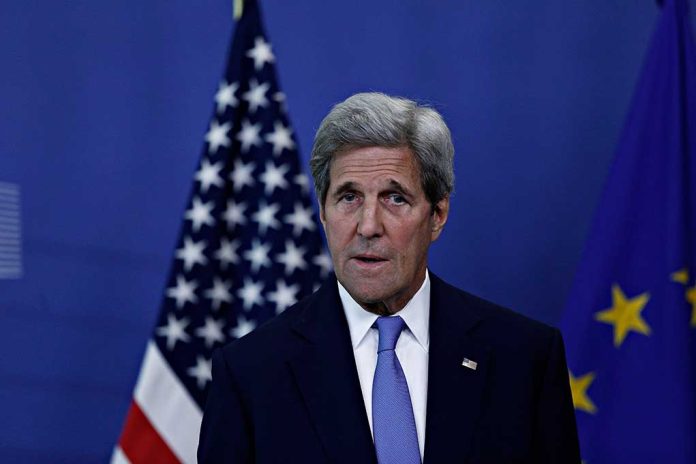 (WatchDogReport.org) – In November 2020, then-President-elect Joe Biden named former Senator John Kerry (D-MA) as Special Presidential Envoy for Climate (SPEC) to deal with the climate crisis full-time under the incoming administration. In January 2021, the former politician became the first to hold this role and was tasked with working with leaders around the globe. Now, it seems Congress is interested in the job Kerry is doing — and not in a good way.
On February 2, Committee on Oversight and Accountability Chairman James Comer (R-KY) sent a letter to Kerry with some requests for information. He claimed Republicans in the previous Congress asked for more insight into his position and about reported "negotiations with the Chinese Communist Party (CCP)." According to Comer, those requests went unanswered. Now, the Oversight Committee is asking once again. The missive stated the group wants to know what SPEC does, how much it spends, and who works there.
🚨@RepJamesComer calls on Special Presidential Envoy for Climate John Kerry to provide information about his secret negotiations that undermine American interests.

Americans need transparency about his office's staffing, spending, and activities.https://t.co/rEn4D7mFrq

— Oversight Committee (@GOPoversight) February 2, 2023
Comer's letter stated Kerry told the Associated Press he was negotiating with the CCP to look into greenhouse gasses and revealed at the World Economic Forums that money — and lots of it — is needed to fix changing temperatures around the globe. The lawmaker then accused Kerry of showing a complete "disregard" for "national security and taxpayer dollars." In November 2021, The Hill reported Kerry had indeed been talking with China's climate envoy Xie Zhenhua about global warming for quite some time. Those talks led to an eventual agreement between the US and China to work together to slow down the climate change problem.
The representative also seemed concerned that Kerry's activities as SPEC don't fall under the purview of Congress, so he feels the envoy is able to "skirt congressional authority." The Kentucky legislator requested years' worth of documents, travel itineraries, and communications, as well as staffing information for the special envoy. Comer said such oversight is "long overdue."
Copyright 2023, WatchDogReport.org