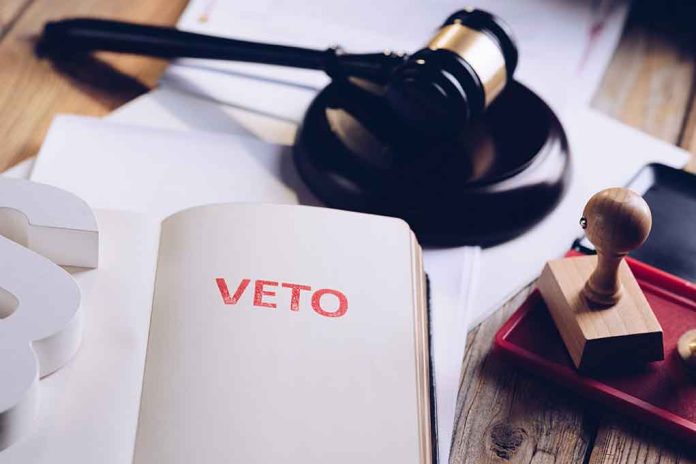 WatchDogReport.org) – Joe Biden is currently dodging allegations from all sides that he may be compromised by the Chinese government. Congressional committees have issued memos detailing money flowing from Chinese Communist Party (CCP) connected entities to the Biden family through shell companies. Biden raised more eyebrows early in the week when he vetoed the bi-partisan Congressional Review Act (CRA), which aimed to end the two-year hiatus on solar tariffs.
In the accompanying statement, Biden claims he issued the veto to secure the ambitious renewable energy targets within his Inflation Reduction Act. He said America is making progress in the solar energy sector, and placing tariffs back on China would be a bet "against American innovation." He further claimed these tariffs would "create deep uncertainty" within American interests and solar workers in the United States.
The Senate passed the CRA in a 56 – 41 vote that included senators from both sides of the aisle. Prominent proponents of green energy policies even voted in favor of the act.
One House Democrat, Dan Kildee (D-MI), has called for the Legislature to attempt an override of Biden's veto. He contends that China engages in unfair trade practices that hurt US businesses and workers. Kildee stated his confusion over the veto, citing the Biden administration's investigative findings that Chinese companies frequently violate the law. He says there is ample reason and evidence to override this veto.
Chinese companies currently control upwards of 80% of the global solar panel market share. The industry has also been directly tied to forced labor within China. For that reason, the bill was supported by various international human rights groups.
Animal rights groups also raise caution as birds and whales continue to become victims of land-based and underwater green energy programs such as windmills. Additionally, the Department of Defense (DoD) has warned that the administration's green energy push jeopardizes American defenses and could impede operations.
Copyright 2023, WatchDogReport.org