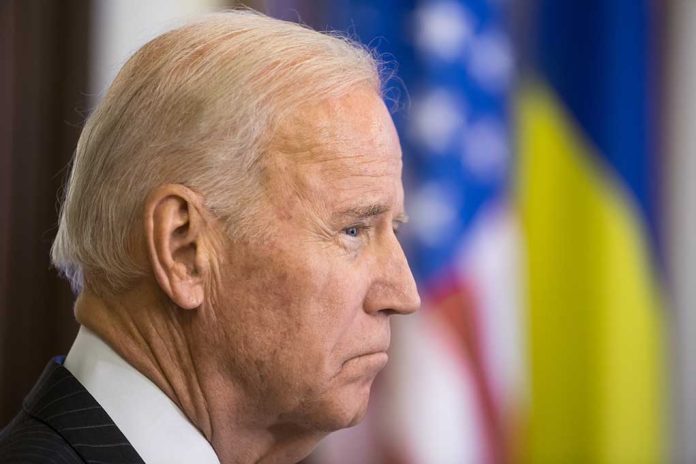 (WatchDogReport.org) – On more than one occasion, President Joe Biden and Jill, the First Lady, have stated that they have six grandchildren. This number does not include Hunter Biden's 4-year-old daughter, Navy Joan Lunden.
President Biden brags about his other six grandchildren, all born in wedlock, on a regular basis. During a take-your-child-to-work-day event, he told other children about his six grandchildren, claiming to speak with them daily. Only six stockings are hung in the White House during the Christmas holidays to acknowledge the Biden grandchildren. Even White House Aides have been instructed to recognize only six grandchildren of Joe and Jill Biden for fear of damaging "public image."
Navy Joan was born out of wedlock to Lunden Roberts, an exotic dancer Hunter Biden met at a club in Washington, D.C. Hunter Biden acknowledged the child during a paternity suit and has been paying $20,000 per month in child support, though he recently petitioned to reduce this amount.
Roberts demanded Navy Joan have the Biden name believing it would be beneficial to have the connection to the Biden family. Hunter Biden disagreed, claiming the Biden name would only deny the child the chance to live a peaceful life. The two managed a compromise. Hunter Biden gave Roberts expensive paintings, and Roberts chose not to provide Navy Joan the Biden Name.
President Biden claims to be dedicated to family, stating many times that family means more than anything, yet he has never met nor spoken to Navy Joan. One can only speculate why the Bidens seem to pretend she doesn't exist. Is it to avoid scandal and protect their public image, or is it because the child is a reminder of Hunter Biden's scandalous behavior?
Regardless of the logic behind the omission of Biden's seventh grandchild, public perception of the ordeal isn't positive. Many point out the hypocrisy of pushing the importance of family while denying the existence of a young member. Others, such as CNN commentator Scott Jennings, go so far as to call the Biden family "Monsters."
Navy Joan Roberts knows that Hunter Biden is her father and her grandfather is the President. She allegedly mentions them both often but has never met either man.
Copyright 2023, WatchDogReport.org