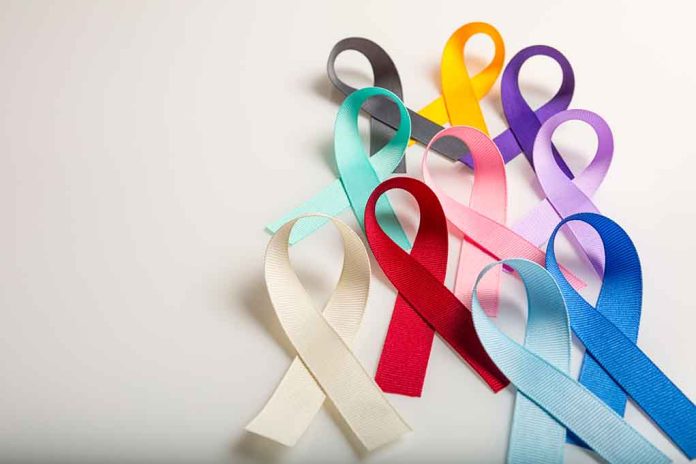 (WatchDogReport.org) – Cancer is a disease that affects millions of people around the world each year. Yearly screenings can help detect tumors and other areas of concern, to initiate early treatment. During one such appointment, doctors discovered that First Lady Jill Biden had some worrisome lesions.
BREAKING: Surgeons removed a cancerous lesion above first lady Jill Biden's right eye, as well as another cancerous lesion on her chest, the White House says. https://t.co/1C2DzLgCIz

— The Associated Press (@AP) January 11, 2023
According to White House physician Dr. Kevin O'Connor, Mrs. Biden had three separate lesions removed through Mohs surgery: one above her right eye, one on her chest, and one on her left eyelid. The first two were identified as basal cell carcinoma (BCC), while the third was removed and sent to be examined under a microscope.
Mohs surgery is a type of procedure that removes the lesion through the removal of multiple layers of skin tissue, one at a time, until the layer shows no sign of cancer cells. It's commonly done on an outpatient basis.
The physician to the president, Dr. Kevin O'Connor, said the First Lady was in good spirits, doing well despite some bruising and swelling that's typical of the procedure.
Update from Dr. Kevin O'Connor, Physician to the President, following the First Lady's Mohs surgery today: pic.twitter.com/2dxyDCCeeQ

— Vanessa Valdivia (@vvaldivia46) January 11, 2023
The Skin Cancer Foundation website describes BCC as the most common of all the different skin cancers and, in fact, is the most frequent diagnosis of all of the myriad types of cancer. They say that approximately 3.6 million cases are diagnosed every year in the United States.
Medlineplus.gov says that people with blonde/red hair, blue/green/gray eyes, or who suffered multiple severe sunburns in their younger years are at higher risk to develop BCC. Additional factors that can increase one's chance of contracting the disease include smoking, compromised immune systems, or having had photodynamic therapy for previous cancers.
Furthermore, the site indicates that the prognosis for BCC patients is good if it is caught and treated early. The Canadian Cancer Society website says the five-year survival rate for BCC is 100%, which is extremely good news for the first lady and her family.
Copyright 2023, WatchDogReport.org