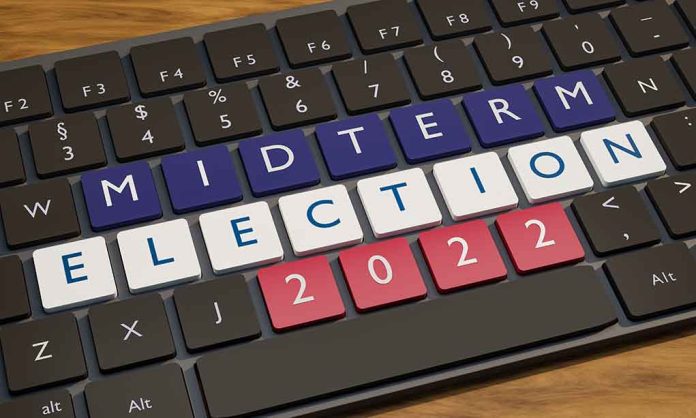 Jen Psaki Says Democrats Know They Will Lose if Midterms Focus on Biden
(WatchDogReport.org) – After Jen Psaki left her position as press secretary for President Joe Biden, she became a contributor for NBC News with an eye toward her own show on MSNBC beginning in 2023. In a recent appearance on the long-running "Meet the Press," she delivered some opinions that may have caught some Democrats a bit off guard.
Biden a Losing Strategy
According to Psaki, if the midterms become a referendum on the job the president is doing, then she believes the Republicans stand a very good chance of taking both houses of Congress. The result of a September 21 ABC News-Washington Post survey lends some weight to her assessment, showing only 39% say they approve of how Biden is doing, while 53% disapprove, 41% "strongly" so.
The former press secretary pointed to other issues weighing on potential voters' minds that could be heavy anchors to the hopes of many candidates on the Left. Two major ones link back to policies championed by Biden and the other Democrats: crime and the economy.
"It's the Economy, Stupid" — James Carville, 1992
Carville coined the phrase while he was an advisor on the first campaign for former President Bill Clinton, going so far as putting up a sign in their campaign headquarters so staffers would remember the importance of driving the point home to the public. It worked back then, making President George H. W. Bush a single-term occupant of the oval office.
The ABC survey says Americans take a poor view of the way Biden is handling the economy by almost 20 points: 57% to 36%. When asked whom they would trust handling the economy going forward, 53% of the respondents answered it would be the Republicans. The pollsters also asked about which issues people would primarily base their decision upon, and an overwhelming majority of 84% said that it was the economy.
When you put all three of those results together, it becomes apparent why Psaki focused on the economy as one of the major issues surrounding the November elections.
Feeling Safe
By and large, people want to feel a sense of stability about the future, and financial well-being is only one aspect of that. A more imminent threat to their homes and family is the rampant crime flooding Blue cities and states across the country. In Illinois, Governor JB Pritzker and Chicago Mayor Lori Lightfoot, both Democrats, are under fire for surging violent crime rates.
According to Chicago-based crime watchdog Wirepoints, overall crime is up 37% over 2021, and carjackings are on track to average once every five hours in the city. This has contributed to major corporations like Boeing and Caterpillar packing up their headquarters and moving to different locations.
McDonald's is another megacorp that is beginning to rethink its presence in the Windy City, with CEO Chris Kemp Kempczinski pointing out several issues there, which are also being seen in other major Democrat strongholds. He said problems with the homeless, drug addicts, and violent crime in city locations, along with an unfriendly business climate imposed by state and local government, as reasons for losing corporations to other states.
In New York City, felonies increased 26% in a year's time, especially in crimes related to theft. Robberies jumped 38%, burglaries were up 31.1%, and grand larceny jumped 34.7%, according to statistics released by the New York Police Department (NYPD).
Once again, looking at the ABC poll, a vast majority of people (69%) placed a high level of importance on the issue of crime, and 52% of them feel the Republicans are better equipped to handle the problem.
It's sometimes hard to admit when somebody connected to the Biden Administration gets things right, but Psaki seems to have drilled down to the problems Democrats are facing. Then again, it's possible she's seeing things more clearly now that she is a former member of that team.
Copyright 2022, WatchDogReport.org