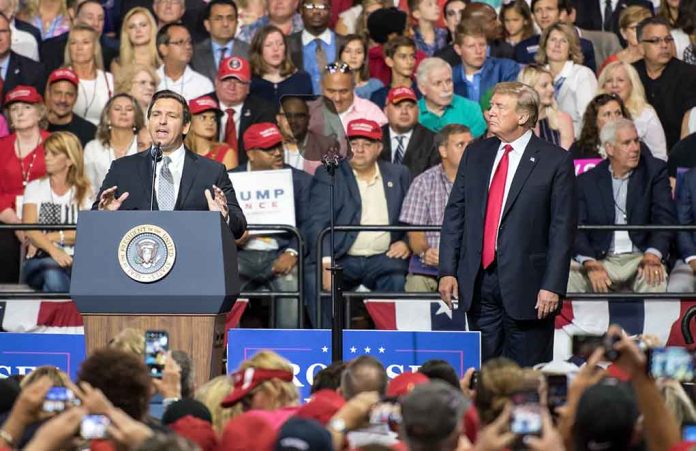 Trump DeSantis Rivalry Heats Up
(WatchDogReport.org) – Former President Donald Trump and Florida Governor Ron DeSantis (R) are two of the most popular figures among Republicans. As of right now, there are rumblings that both will throw their hats in the ring for president in 2024. At times, they had seemed to be respectful with one another, and at others, their rivalry has turned white hot. In the days following the 2022 midterm elections, it seems to be transitioning from simmering to boiling over. Again.
Trump Accuses Ron DeSantis of Disloyalty in Sharp Rebuke https://t.co/YDh3DY92YY via @BreitbartNews

— Chris 🇺🇸 (@Chris_1791) November 11, 2022
Trump appears to be ready to announce his intentions for 2024 soon, and in his typical boisterous style, he held nothing back against his apparent biggest rival for the Republican Party nomination. In a statement released on his website, the ex-president launched what can only be described as a declaration of war against "Governor Ron DeSanctimonious."
Some in the mainstream media will undoubtedly portray Trump's contention that DeSantis' first term in office came about largely because of his endorsement in the 2018 race as pure bluster. However, an article on the POLITICO website, dated July 17 of that year, said polling numbers at the time indicated "President Donald Trump [was] the key to his success."
And while DeSantis may be the second most popular choice for the 2024 nomination, it really isn't all that close, according to surveys done just before election day. The poll tracking site RealClear Politics shows Trump with a 31.3% lead over the governor on average.
Copyright 2022, WatchDogReport.org