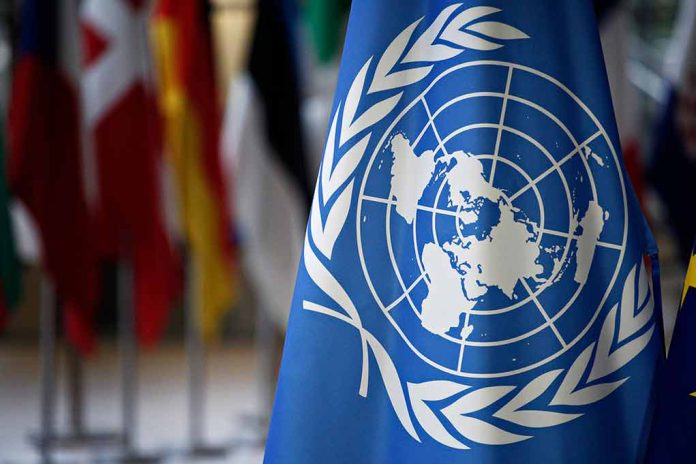 (WatchDogReport.org) – Israel's ambassador to the United Nations, Gilad Erdan, expressed his commitment to all the oppressed people of Iran by holding up a picture of Mahsa Amini during the speech of Iranian President Ebrahim Raisa. However, UN security guards violently grabbed the Israeli diplomat and detained him while he was waving the photo.
Amini became one of the most famous faces of the Iranian resistance and political opposition after the Iranian regime's authorities killed her for refusing to wear a hijab. Since that moment, numerous protests have erupted in the Persian nation, with people calling for democracy and the end of Islamic extremism.
Following the incident, Erdan said on his Twitter account that what happened at the UN could be considered a new "moral strain" for the international organization. He said that all he did was express his opposition against Raisa, whom he called the "Butcher of Tehran," and express his support for those Iranians who are "begging" the international community to help them. The ambassador added he will always fight for "the truth " and will make efforts to "expose" the "moral distortions" of the UN, including the way this organization usually invites "antisemites" and "murderers."
Before his protest against the Iranian president, the Israeli diplomat said on Twitter that the UN was ignoring the thousands of Iranians in New York City by rolling out a "red carpet" for such an authoritarian leader as Raisa. He then said that these Iranians were protesting in the so-called Big Apple to show the "true face" of the Iranian regime, which is ruled by an Ayatollah who has expressed his desire to destroy Israel.
Erdan also claimed that the world should listen to Iranians, as they are currently being oppressed by a group of politicians whose primary goal is to oppress, starve, and even murder their own people while supporting terrorism. Finally, the ambassador said that the "Ayatollah regime" needs to be held accountable."
Copyright 2023, WatchDogReport.org