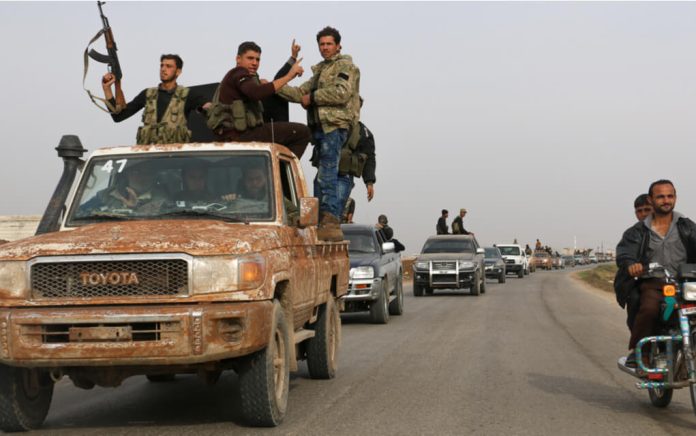 US Enemy CAPTURED – Troops Take Him Down!
(WatchDogReport.org) – The Combined Joint Task Force – Operation Inherent Resolve (JC-OIR), a US-led coalition battling ISIS on the ground in Iraq and Syria, announced a significant win against the Islamic State. Hani Ahmed al-Kurdi, an expert bombmaker, and senior Da'esh leader, is in custody. The operation to detain the terrorist, according to a coalition statement, was a complete success.
A rare U.S. military ground raid in northwestern Syria has captured a top ISIS leader, according to the U.S.-led anti-ISIS coalition.

A U.S. defense official said there were no injuries to U.S. military personnel or aircraft involved in the raid. https://t.co/Duegqtbifd

— ABC News (@ABC) June 16, 2022
Not only was al-Kurdi taken alive, possibly offering intelligence agencies an incredible opportunity to extract information, but he was also taken without any coalition or civilian losses at all. According to the statement, there was no collateral damage to any equipment, either.
The operation is the third successful take-down of a major ISIS figure since 2019, when former ISIS Leader Abu Bakr al-Baghdadi detonated a suicide vest as coalition forces closed in on him. More recently, this past February, al-Baghdadi's replacement, Abu Ibrahim al-Hashimi al-Qurashi, ended his life the same way.
The coalition's statement makes clear its objective: to hunt down and eliminate ISIS and "ensure its enduring defeat." The task force has been battling terrorists in the area since 2014. It consists of 77 member nations and 5 international organizations, working together at the request of the governments of Syria and Iraq.
Copyright 2022, WatchDogReport.org