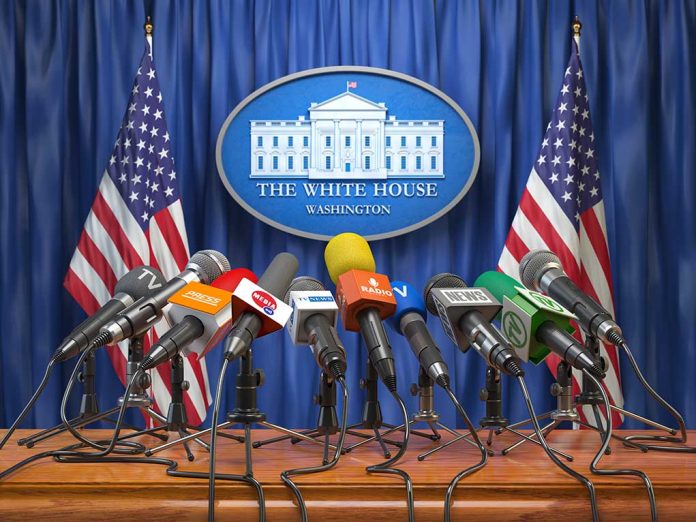 Jen Psaki's REPLACEMENT Has Everyone Worried
(WatchDogReport.org) – White House Press Secretary Jen Psaki leaves her post at the end of May for a new job as an MSNBC talking head. Replacing her is Deputy Press Secretary Karine Jean-Pierre, who has a track record of espousing far-left talking points and advocating for an agenda even more "progressive" than that of President Joe Biden. Republicans fear Jean-Pierre's apparent hyper-partisanship may overshadow her accomplishment as the first black woman to hold her position.
Incoming Biden administration press secretary Karine Jean-Pierre's willingness to insert her personal political spin into hot-button issues has many worried about whether the frequent purveyor of misinformation will be able to disseminate truth. https://t.co/ZmYqGn7pVh

— NEWSMAX (@NEWSMAX) May 12, 2022
Republican National Committee (RNC) Press Secretary Nicole Morales made it clear that the new head of Biden's communications department is a purveyor of misinformation. According to Newsmax, Morales made accusations that Jean-Pierre spread election misinformation about several key races. That includes the 2016 presidential race and the infamous "Russian collusion," as well as the gubernatorial race in Georgia that was supposedly lost to "voter suppression," even though there was a higher voter turnout than ever before.
Jean-Pierre even concerns more moderate Republicans, like strategist and communications expert Brian Sobel. He warns that the new press secretary may not be able to stay on course with Biden's goals. Sobel worries that her nature of adversity towards Republicans is her jumping-off point, leading to press conferences filled with her messages, not those of the president.
Copyright 2022, WatchDogReport.org