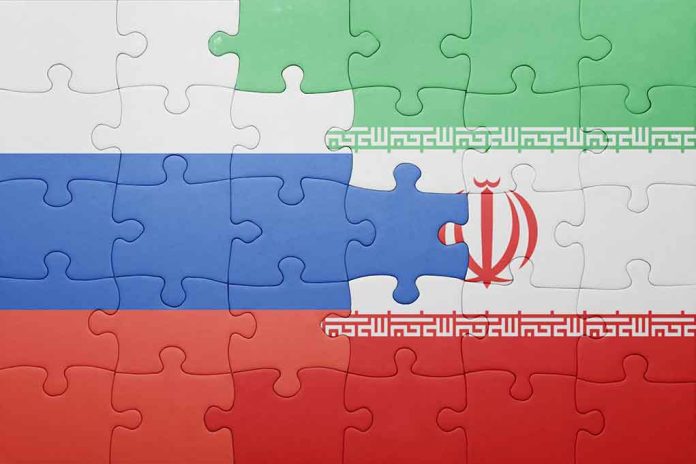 Putin's New SOURCE Named? It's Not China
(WatchDogReport.org) – International sanctions against Russia for its invasion of Ukraine have had a crippling effect on not just the country's economy, but also on its ability to wage war. Iran, another country battling the global community's restrictions, is apparently looking to step in and help. Tehran announced it would provide Russia with essential parts and engines in exchange for raw materials.
Andy Vermaut shares:Iran to supply Russia with car parts, fuel turbines amid gas crisis in Ukraine: Iran will begin negotiating with Russia on bartering spare car parts and fuel… https://t.co/6S5fn0y5tT Thank you. #ThankYouJournalistsForTheNewsWeGetFromYou #AndyVermautThanksYou pic.twitter.com/DUjRlPnAyu

— Andy Vermaut (@AndyVermaut) May 27, 2022
Iran, in need of metals like aluminum, copper, zinc, and steel, finds a unique trading partner in Russia. The Kremlin has reportedly been using spare parts from Chinese appliances to outfit its warships, thus illustrating how dire the spare part situation is in Moscow. Imported parts from Iran could spell much-needed relief for engineers looking for quick fixes.
The deal between the two nations provides cooperation with banking, agriculture, and transportation. In addition to automotive parts and turbine engines, Iran will also provide Russia with materials for conventional power plants.
A State Department spokesman told Fox News that while there is no current sanction against the export of car parts from Iran, the export of raw materials to Iran may be a violation. The spokesman noted that all options are on the table for any entity that violates sanctions or supports Iran's aggression in the area. It would seem Tehran may have found the perfect outlier to call a friend. Their new alliance, however, may end up further isolating them from the rest of the world.
Copyright 2022, WatchDogReport.org