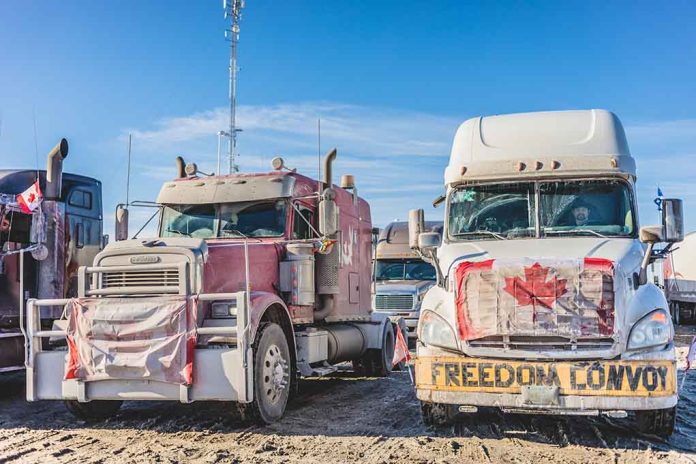 (WatchDogReport.org) – Prime Minister Justin Trudeau recently unleashed the tyrannical Emergencies Act in Ottawa to stop the Freedom Convoy protesters from standing up against COVID-19 mandates. Upon its enactment, officials seized several trucks, equipment, and other vehicles, and the Ottawa mayor plans to sell them to reimburse the city's residents for their monetary losses. He claims the protesters shut down the city for weeks, causing the residents to lose revenue.
Unfortunately, those who stood up for themselves and their fellow citizens may permanently lose their vehicles as a result.
SHAMELESS THIEVES: Ottawa Mayor Jim Watson says he'll use The Emergency Powers to try and sell the confiscated trucks and equipment.https://t.co/D8FDMIF1Zn pic.twitter.com/9qaS6GBg8h

— Culture War Resource (@CltrWarResource) February 21, 2022
Before Trudeau used the Emergencies Act against the Freedom Convoy, police were reporting difficulty finding tow trucks to remove the vehicles, but that ended with his drastic measures. The mayor stands firm that he wants to "see them sold" and has no intention of returning them to the convoy participants.
On February 23, Trudeau announced that he rescinded the Emergencies Act because the protests no longer call for its use. However, the mayor still has possession of the vehicles, which begs the question: can he still sell the vehicles to recoup the town's cost, or does he have to return them to their rightful owners?
Copyright 2022, WatchDogReport.org