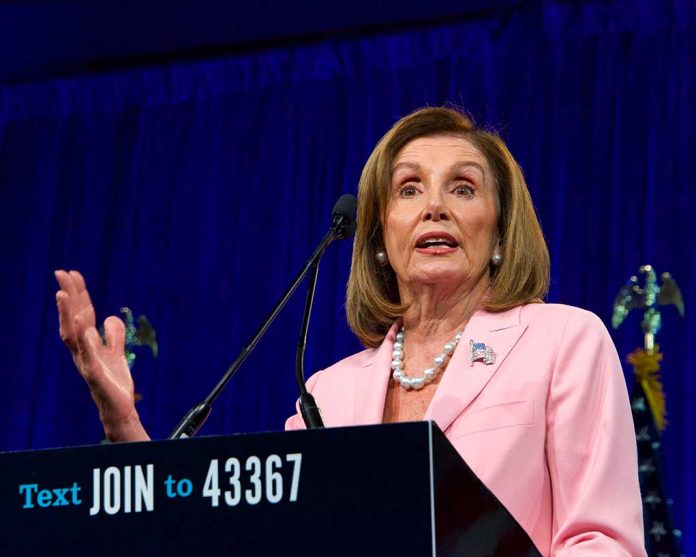 New Act Sets the Stage for Stock Trading Ban on Congress Members
(WatchDogReport.org) – From all appearances, the Stop Trading on Congressional Knowledge (STOCK) Act of 2012 should have started with "once upon a time" like so many other fairy tales. In the years since it was enacted, many members of Congress and their families have been caught in violation. So, Speaker of the House Nancy Pelosi (D-CA) set one of her Democratic pals to drafting a new bill in what Business Insider describes as an insular process.
The Combating Financial Conflicts of Interest in Government Act
Representative Zoe Lofgren (D-CA) is the chair of the Committee on House Administration and was the chief architect of the plot that is 26 pages of, as always, difficult to parse legalese. The draft of the Combating Financial Conflicts of Interest in Government Act takes the 2012 law a step further by including officials across all three branches of government, their spouses, and their dependent children.
Beyond typical stocks and bonds, the legislation includes "investment in a security, a commodity, a future, cryptocurrency or other digital asset, or any comparable economic interest." Because digital monies and investments continue to evolve quickly, the bill covers all sorts of "coins and tokens," including the emerging non-fungible tokens (NFTs).
Pressure to get something done came after Business Insider published an exposé finding "[d]ozens of federal lawmakers and at least 182 top congressional staffers are violating the… STOCK Act." Paul Pelosi, the speaker's husband, has made millions of dollars trading in companies regulated by her. Additionally, Senator Richard Burr (R-NC) was forced to resign from the Senate Intelligence Committee when the Department of Justice (DOJ) opened an investigation into trades he had made at the beginning of the pandemic. None of them have been charged with any crimes as of this writing.
Opposition
Congress members from both sides of the aisle are voicing their opposition to the new measure. Part of it comes as a familiar refrain touted by Pelosi when it came to Obamacare, that being a similar tone to "if you want to know what's in it, then you need to pass it."
The House is set to adjourn within just a few days, which means there's a very real possibility of Pelosi trying to bring it to a floor vote beforehand. The number two Democrat in the chamber, Rep. Steny Hoyer (D-MD), said even though he had not yet seen the proposed legislation, based on what he has heard of it, he intends to vote "no."
Walter Shaub, the director of the Office of Government Ethics under former President Barack Obama, has examined the bill and pronounced his opinion, effectively holding his nose and waving away the smell. His issue was with what the proposal does regarding the concept of a blind trust, which he says is currently a "strict uniform standard… across the government."
As he sees it, Lofgren scrapped the provision and created a situation where any of the five ethics offices across the three branches can redefine "blind trust" as anything they want. And this loophole could make the whole point of this kind of legislation just another DC establishment wink and a nudge.
So, what's your opinion? Is this just another ploy on the part of the Democrats to have something to point to as an accomplishment for their vote in the upcoming midterm elections?
Copyright 2022, WatchDogReport.org