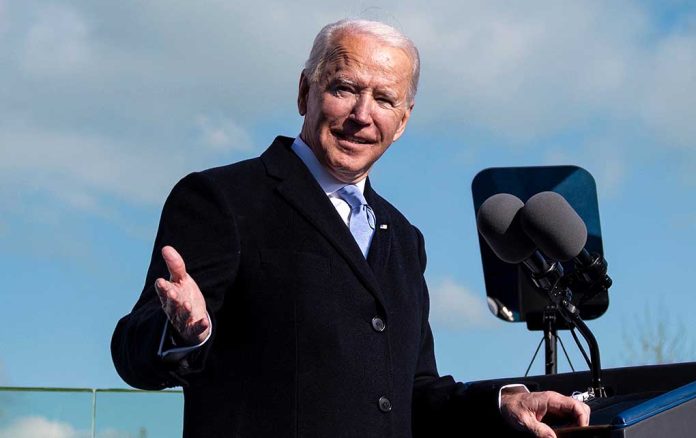 Ron DeSantis Says Biden Picked Kamala Harris as VP as "Insurance"
(WatchDogReport.org) – Florida's Republican Governor, Ron DeSantis, was already leading his Democratic opponent Charlie Crist in the polls when he attended his most recent rally in a move many saw as him positioning himself to get his party's nomination in the 2024 presidential campaign. If he could manage to take it away from former President Donald Trump, he would most likely face off against either President Joe Biden or Vice President Kamala Harris. He recently had much to say about his possible opponents when he repeated a claim he originally made back in July.
Shot Across the Bow
During an interview on Fox News on July 22 on the "Ingraham Angle," and again on Sunday, November 6, at a campaign stop in Sarasota, DeSantis claimed Biden chose Harris as his running mate as a shield against removal from office. He said Harris would protect Biden if it should happen that he, to be honest, found himself exactly where he is. That is to say, people are beginning to question his cognitive abilities and whether or not he should be running the country.
The governor believes Biden didn't pick the best running mate he could have, but rather chose Harris as "impeachment insurance" with the theory that no matter how dismal things got with him, "nobody wants [her]" to be president. If that is true, it could have been the most brilliant maneuver the lifelong politician has ever made.
Harris' Boondoggles
Biden's recent approval/disapproval numbers are in the red by an average of 12.5% in polls from the end of October through the beginning of November, according to RealClear Politics (RCP). Ironically, Harris has exactly the same deficit, according to another poll aggregator, FiveThirtyEight, as of November 4. Of course, that can probably be explained because a separate RCP poll about the direction of the country shows how a mind-blowing 68.3% of Americans believe it's on the wrong track.
On Illegal Immigration
Within just a few weeks of his inauguration, Biden appointed Harris as "America's Border Czar," and since that time, she has done nothing to help the crisis she was a part of creating. In an October 2021 letter to the president, Senator Marco Rubio (R-FL) and 10 others claimed so many people were flooding border states "because you, and Vice President Harris, promised to open America's borders."
As part of the 2022 midterm fundraising circuit, Harris went to Austin, Texas, in early October, and was urged to make a trip to the "epicenter of [the administration's] self-inflicted crisis firsthand," by Senator John Cornyn (R-TX). Yet, she refused to visit.
Democrats Jumping Ship
The VP has also been accused of allowing an unhealthy environment to envelop her office, causing many staffers to walk away. Over the course of the first year or so in the position, no less than 13 "key staffers" had parted ways with her, according to an article in the New York Post, and they include:
Chief of Staff Tina Flournoy
Deputy Chief of Staff Michael Fuchs
National Security Advisor Nancy McEldowney
And lest it seem like old news, Harris' team announced the hiring of a third head speechwriter in mid-October, which is a post even the left-leaning news site Politico admits, "she has had particular trouble filling."
Obviously, there's been no leak of any back-room deals being made over the president's deliberations on who he would choose as a running mate, but one thing seems clear: if DeSantis is right, it looks like it was a good call by Biden.
Copyright 2022, WatchDogReport.org