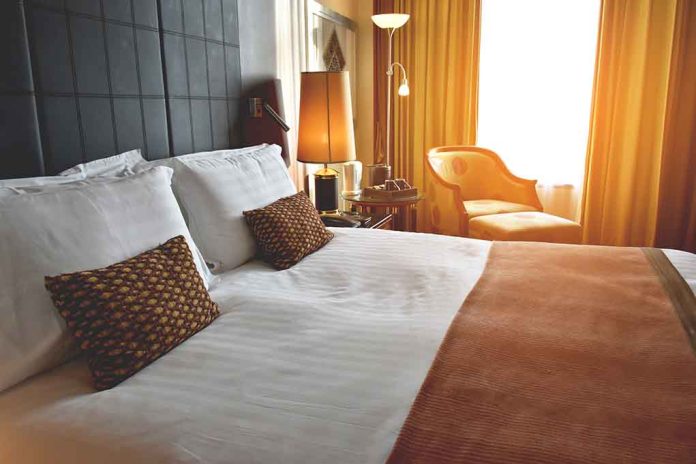 Feds Give Illegal Immigrants Five-Star Treatment
(WatchDogReport.org) – The illegal immigrant crisis at the Mexican border is a catastrophe brought on in large part by President Joe Biden's administration. While it's important to make sure they are treated humanely, Democrats went far beyond and pampered them in a way most Americans could only dream of on their own.
The Biden administration used taxpayer dollars to pay for illegal immigrants' hotel rooms, laundry service, babysitters, and even room service.

— Sen. Marsha Blackburn (@MarshaBlackburn) November 7, 2022
America First Legal (AFL) obtained a trove of documents through a Freedom of Information Act (FOIA) request that seems to spell out how the government, through the Department of Homeland Security (DHS), shelled out big bucks to provide relatively lavish living accommodations to migrants. The no-bid contracts, totaling hundreds of millions of dollars, were awarded to Family Endeavors, Inc., in what may have been an inappropriate manner.
Representative Andrew Clyde (R-GA) became concerned when this much money was given to the nonprofit, which had reportedly never been an ICE contractor before, after a former member of the Biden-Harris transition team took an executive position with them. The congressman noted Andrew Lorenzen-Strait may have brokered the deal while working with the government before joining the group that won such a lucrative deal.
AFL found the illegal aliens were housed at hotels such as Hampton Inn, Comfort Suites, and Holiday Inn Express, with meals brought by room service, 24-hour access to drinks and snacks, and babysitters for their children. They also claim the contract states they will do nothing to stop the illegal aliens "from simply walking away and disappearing into the United States."
Copyright 2022, WatchDogReport.org