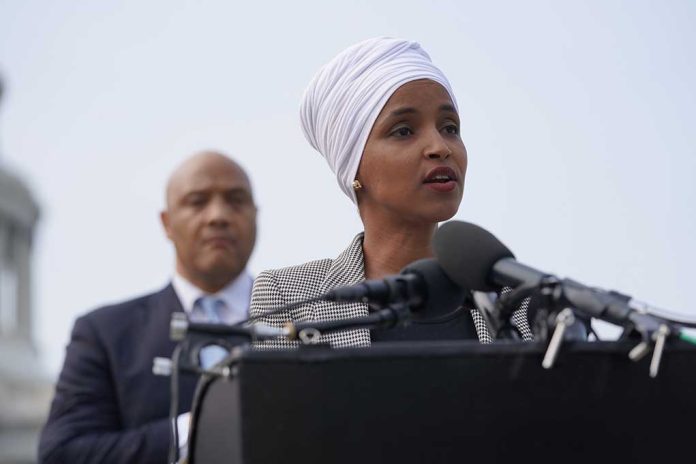 (WatchDogReport.org) – On January 24, House Speaker Kevin McCarthy (R-CA) rejected House Minority Leader Hakeem Jeffries' (D-NY) plea to allow Democratic California Representatives Adam Schiff and Eric Swalwell back on the Intelligence Committee. The leader essentially said he couldn't trust the pair due to their past behaviors and wanted to put "integrity" above all else when it comes to decisions. Many speculated Representative Ilhan Omar (D-MN) would also lose her committee seats — but maybe not.
On January 25, Newsweek reported if enough Republicans stand behind the Minnesota legislator remaining on the Foreign Affairs Committee, McCarthy might not be able to keep her out. The reason he was able to bar Schiff and Swalwell is that the Intel committee is different than any other group in the House, and the speaker has the final say. That fact is not true for other committee seats.
Why Ilhan Omar might survive Republican purge of House committees https://t.co/ORAcvzW62u pic.twitter.com/ufARXlgNvW

— Newsweek (@Newsweek) January 25, 2023
Months before McCarthy became House speaker, he said in an interview with Fox New's Maria Bartiromo that he intended to remove Omar from foreign affairs, along with barring the California lawmakers from the Intel committee. He stated the Minnesota lawmaker made "antisemitic comments" and didn't belong on the Foreign Affairs Committee. While it's true she was criticized for some previous comments she made about Israel, Newsweek reported the lawmaker apologized for her words years ago. Too bad sorries don't erase words spoken. Regardless, her committee assignment is subject to a full House vote, so all she needs is the support of a few Republicans to join House Democrats and secure her seat.
Many on the Left are accusing McCarthy of using his new position to exact "vengeance" against the Democrats for removing Representatives Marjorie Taylor Greene (R-GA) and Paul Gosar (R-AZ) from their assignments completely during the last Congress. The speaker denied the accusation, stating in his previous letter to Jeffries that his aim was to best serve the American people. Whether or not Omar survives the purge remains yet to be seen.
Copyright 2023, WatchDogReport.org