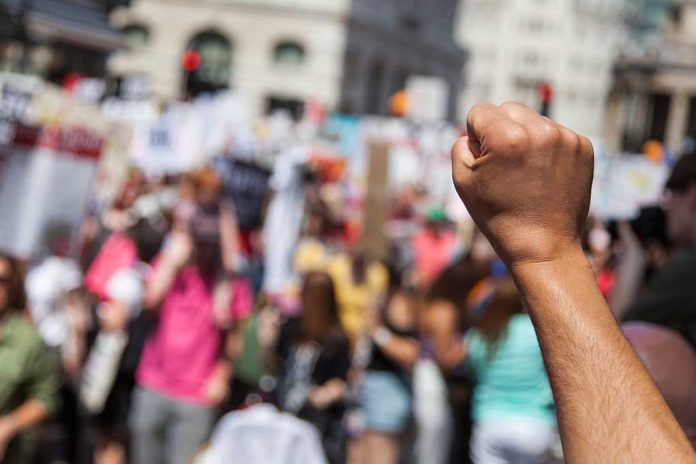 (WatchDogReport.org) – In January, many people hit the streets in France to protest the prospect of France's Prime Minister Elisabeth Borne and French President Emmanuel Macron's intent to raise the country's retirement age from 62 to 64 years old. The Associated Press reported the PM was determined to make the change, despite the will of French residents around the country. More than a million people marched to oppose the measure.
On March 24, things still had not calmed down in the European country. In fact, they got worse. According to France 24, France's Interior Minister Gerald Darmanin confirmed the arrest of 457 people during recent protests. He said many of the demonstrations turned violent, especially in Paris, where over 900 fires were lit in the streets, and masked infiltrators broke nearby windows. Amid the chaos, 441 members of the security forces were injured across the country.
A general strike was called in France today.

And well over a million people are in the streets at over 200 protests across the country.

Teachers, transport workers, garbage collectors, and gas and electric workers and more are all on strike today.

— Stop Cop City (@JoshuaPHilll) March 23, 2023
Outside of Paris, things weren't much better. France 24 reported that protesters set fire to the entrance of city hall in Bordeaux, a move that the local mayor, Pierre Hurmic, called hard to understand. Apparently, King Charles III is supposed to visit Bordeaux soon, so the uproar in the area is especially concerning.
Protests in France heated up when Macron followed through on his promise to reform the country's pension program. Instead of going through parliament for a vote on the matter, the president used an article in the French constitution to unilaterally push through the change. The aggressive demonstration of power enraged millions of French people, who have now been striking and protesting for months.
Michel Doneddu, a retired Frenchman, said the people picketing the matter are tired of a leader who "doesn't listen" to the people of France. Doneddu said Macron acts like he's the only one who knows what's best for the country, but he doesn't. Macron, however, reportedly said he has "no regrets" about his decision to raise the age. He said the move was exactly what France needs.
Copyright 2023, WatchDogReport.org