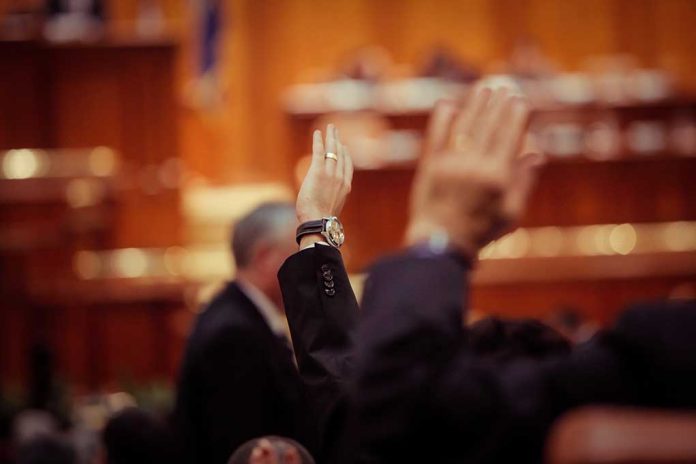 (WatchDogReport.org) – Once the drama ended over the selection of Representative Kevin McCarthy (R-CA) as Speaker of the House, the new Republican-led lawmakers hit the ground running big time to put the promises made on the campaign trail into action. To that end, two new select committees were formed. The first of which will be chaired by Representative Jim Jordan (R-OH) and will examine the "weaponization of the federal government;" the second will be headed up by Representative Mike Gallagher (R-WI), which aims to identify and counter problems created by the People's Republic of China (PRC) and the Chinese Communist Party (CCP).
The House is poised to set up a special panel to scrutinize investigations by the Justice Department and other agencies https://t.co/ggxQerirTt

— Bloomberg (@business) January 10, 2023
The China Committee received overwhelming bipartisan support, with the vote coming out at 365-65 in favor of its formation. A group of far-left progressives, including Pramila Jayapal (D-WA), Jerry Nadler (D-NY), and Barbara Lee (D-CA), object ostensibly for fear of a rise in anti-Asian sentiment and hate crimes.
In a previous op-ed for Fox News, McCarthy and Gallagher claimed the United States is already involved in a "Cold War" due to Beijing's "totalitarianism, aggression, and ideological control." The issues they intend to tackle include the communist country's military aggression and continued theft of intellectual property, such as is seen through the Confucius Institutes.
The subcommittee that will deal with the "Weaponization of the Federal Government," on the other hand, was formed in a strict party-line vote 221-211 with two abstaining. In a fiery speech from the floor of the House of Representatives, Jordan outlined some of the Republicans' concerns over events they believe have taken place over the first two years of President Joe Biden's administration.
Jordan said, "this is about the First Amendment," and went on to list examples where the Democrats squelched the freedoms of religion, the press, and speech. Specific examples he gave were the Department of Justice (DOJ) and its treatment of "parents as terrorists," in contrast to the complete lack of action against the protesters trying to intimidate Supreme Court (SCOTUS) justices. He called out their double standards and his intent to put a stop to them.
Copyright 2023, WatchDogReport.org