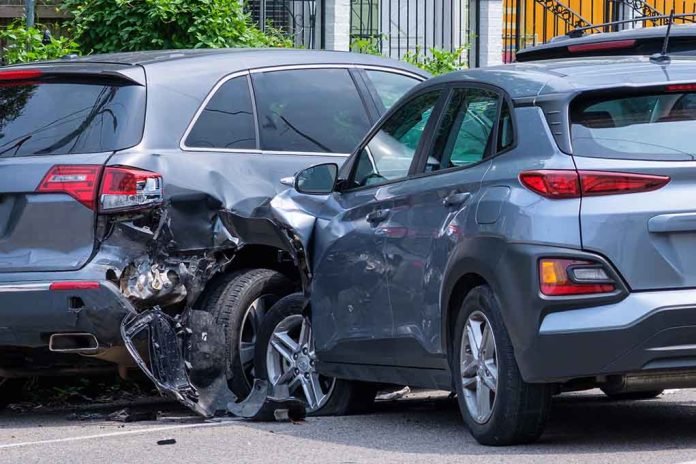 Roger Stone in Horrific Car Crash
(WatchDogReport.org) – Roger Stone, who works as a television analyst, is an ally of former President Donald Trump in the world of politics. While he was riding in an SUV in Germantown, Tennessee, he was involved in a high-impact crash that could have ended very differently, and he and his wife know who to thank that it didn't.
NEW: Roger Stone was supposedly in a pretty serious car crash yesterday: pic.twitter.com/u3SnWFXjZm

— Henry Rodgers (@henryrodgersdc) November 10, 2022
Stone was being driven to a television studio to record his show, "The Stone Zone," which airs on a network of stations owned by My Pillow CEO Mike Lindell. He told the Daily Mail in an exclusive interview how the Ford Expedition he was riding in was waiting to make a left turn at an intersection when a pickup truck slammed into the front passenger door. While the accident caused extensive damage to the SUV, Stone walked away from the crash.
Stone and his wife Nydia (who was not with him at the time) attribute this to divine intervention. Mrs. Stone's tweet said it was one of the "benefits of our prayers." The National File website says the political activist told them, "I thank Jesus Christ for his protection! All praise and glory to Him for protecting my life yet again."
Stone told the Daily Mail it was a matter of a split-second and just a few feet, and how, without the buffer, the pickup that traveled at roughly 50 mph would've hit the door next to him. He also believes this is one of five miracles that have befallen him in recent years. Stone made one important statement to hopefully stop any conspiracies before they start: he emphatically says this was just an accident and not an attempt on his life.
Copyright 2022, WatchDogReport.org