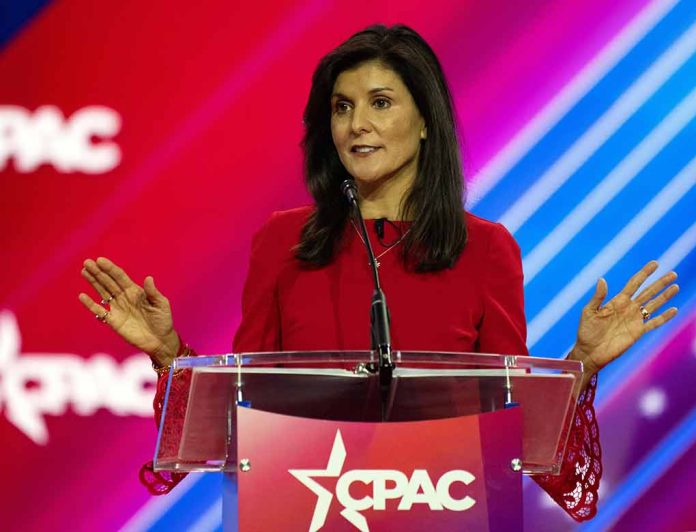 (WatchDogReport.org) – GOP presidential candidate and former South Carolina Governor Nikki Haley recently stated that the United States needs younger leaders. During an interview on CBS' "Face the Nation," the former United States Ambassador to the United Nations expressed concerns about the country's aging lawmakers — including those of the Republican Party.
Haley's comments came after the July 26 press conference where Senate Minority Leader Mitch McConnell suddenly trailed off and stared blankly for 30 seconds. While the presidential candidate praised his decades-long tenure, she suggested that the 81-year Republican leader is too old for his current role.
Haley explained that McConnell has done an "amazing job" in terms of the judiciary, citing "the judges" and the "Supreme Court" as his most outstanding achievements. She also said that Americans need to stop voting people because of the way they "hold a baby" or because they have been in Washington for "a long time."
McConnell's delicate moment occurred in Washington as he commented on Republicans' efforts to finish the National Defense Authorization Act. Colleagues intervened as they noticed the Senate Minority Leader was awkwardly silent for a number of seconds. Wyoming Senator John Barrasso took him by his arm and asked if there was anything else he wanted to say or if he preferred to return to his office.
After hearing him, McConnell reacted and stepped to the side. South Dakota Senator John Thune and others addressed journalists and started to talk about the Inflation Reduction Act passage until McConnell came back to finish the conference.
In another part of the interview, the former South Carolina Governor suggested that Congress should have not only term limits but also a mental fitness test, which should include presidential candidates. Reports pointed out this was an indirect hit against President Joe Biden, as she has suggested on previous occasions that the commander-in-chief isn't mentally fit to lead.
Haley said she believes these measures are useful as politicians like McConnell, Biden, or Senator Dianne Feinstein will "know when to walk away." She also noted that the United States has to choose new "generational leaders," as the country is facing "huge issues" that need "new solutions."
Copyright 2023, WatchDogReport.org