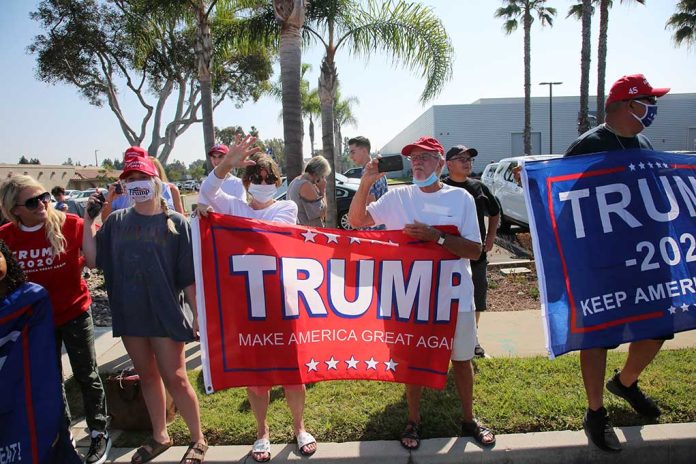 (WatchDogReport.org) – On February 28, Florida Governor Ron DeSantis (R) released "The Courage to Be Free: Florida's Blueprint for America's Survival." That afternoon, he attended a book signing at Books-a-Million in Leesburg, Florida, but not everyone was happy about him being there. The Daily Mail reported that a group of Trump supporters holding signs and decked out in gear supporting the former president wanted to participate in the event.
Surprisingly, a security guard soon arrived on the scene and told the demonstrators they had to leave the premises. He said DeSantis' people asked him to come out and remove anyone "wearing Trump" gear immediately. The group reacted with a resounding "boo," while questioning the Florida governor's stance on the First Amendment. Former congressional candidate Laura Loomer told the security guard they had the right to be there in support of the former president. While the man agreed they have that right, he said they couldn't exercise it "right now."
She posted the video on Twitter, claiming DeSantis is "anti-free speech."
MUST WATCH: I'm at the Leesburg, FL mall outside of Books A Million for my pro-Trump rally with @Villagers4Trump, & @GovRonDeSantis & his staff ordered the police to make "anyone wearing a Trump shirt" or anyone with any "Trump gear" to leave!

Ron DeSantis is anti-free speech! pic.twitter.com/qAcJBQuHZ4

— Laura Loomer (@LauraLoomer) February 28, 2023
The security guard seemed offended by the push-back from the Trump supporters, telling them they sounded like CNN and others from "the far Left." According to Newsweek, Loomer said the situation escalated further when they refused to leave. Apparently, he threatened to call the local police and have them arrest the group if they didn't comply.
Local editor Eric Daugherty allegedly debunked the idea that DeSantis and his team wanted anyone wearing Trump gear out of the area. He claimed managers from the Lake Square Mall — the home of the Books-a-Million store — said the mall made the decision to clear the property. Loomer demanded Daugherty to "stop lying." The controversy seems to have curious timing, as many expect DeSantis to announce his run for the presidency in the coming months.
Neither the Florida governor nor his team has made a statement regarding the incident.
Copyright 2023, WatchDogReport.org