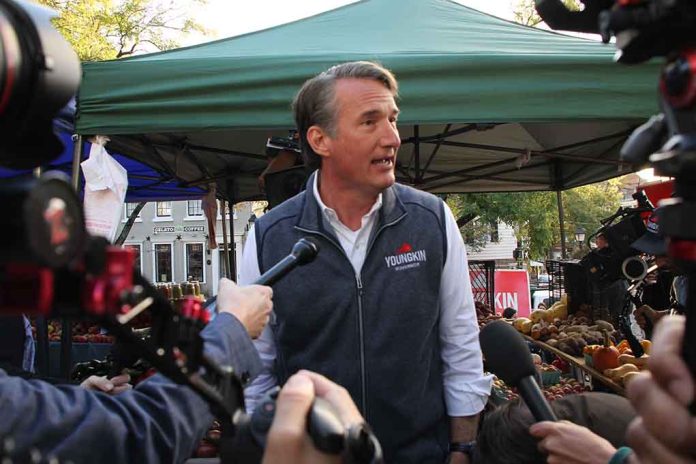 STATE OF EMERGENCY Declared – Dozens of People Missing!
(WatchDogReport.org) – Early in the week of July 4, a catastrophic flood hit Buchanan County, Virginia, destroying more than a hundred homes. Dozens of people were missing. Governor Glenn Youngkin sprung into action, declaring a state of emergency that put first responders into immediate search and rescue mode.
Dozens are reported missing in southwest Virginia and more than 100 homes have been destroyed after some catastrophic flash flooding. A state of emergency has been issued and first responders from across the state are rushing to provide assistance. pic.twitter.com/ZJ6b2SoF13

— CBS Evening News (@CBSEveningNews) July 13, 2022
Local news WCYB reported horrifying destruction and first-hand accounts from residents left wondering how to move forward. Multiple homes in the Whitewood area washed away into the creek that typically posed no danger. Resident Seth Owens told the outlet that he was sitting at the post office when an entire house floated by.
Dominic Fragoso, who also witnessed the tragedy, said water up to his knees pushed him towards the creek. He watched in horror as driveways snapped like twigs and fell down the mountain or into the creek. People struggled to make it to safety at the local elementary school, where food, cots, and friendly faces helped start the healing process from the devastating losses across the community.
A Twitter user used his drone to take aerial footage of the aftermath of the event that would undoubtedly change lives forever:
Some of the worst flash flooding I've seen occurred overnight in the community of Pilgrims Knob. Whitewood is still impassable. Homes washed hundreds of yards off foundations into the road. 11'6 FOOT marks on homes. @NWSCharlestonWV @spann @ReedTimmerAccu @WCYB_DavidBoyd pic.twitter.com/XEyy2EhEx4

— Billy Bowling (@babowling12) July 13, 2022
The heart-wrenching images and stories from Virginia are sure to be followed by the heroic tales of residents helping each other through the crisis, as well as the state's accelerated response to assist in bringing normalcy back to the region.
Copyright 2022, WatchDogReport.org