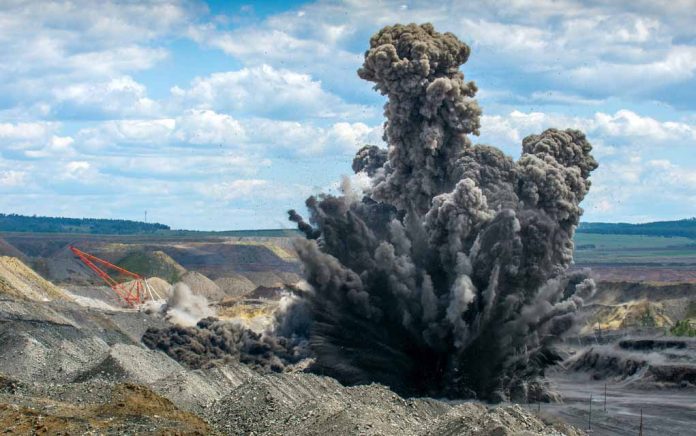 Explosions Reportedly Rock 14 Cities
(WatchDogReport.org) – In February, Russian President Vladimir Putin sent his military forces across the border with Ukraine and drove directly to the capital city of Kyiv in what many see as an attempt at reforming the now-defunct Soviet Union. However, it's important to remember this really started roughly eight years ago when he "annexed" the Crimea region and gave his support to separatist forces in the Donbas region of Ukraine. Recent explosions in major areas are changing the war's dynamic.
Bridge Explosion
In 2018, Putin made a show of driving a truck across the newly opened three-part span over the Kerch Strait, which became the only land link between the two regions claimed by the Kremlin. There are two road bridges allowing motor vehicle traffic, and a third is a railroad line permitting freight trains to travel over the water.
On October 8, someone or something caused a massive explosion to engulf the bridges, including a truck and several train cars. Nick Waters, an author with the investigative journalist group Bellingcat, is working as an "open source analyst," and he gave his take on pictures and CCTV video he was able to view.
In a Twitter thread Waters shared, he noticed a truck had just entered a sensitive area on the bridge. He could not tell if it was involved or was just in the very wrong place at the very wrong time, but he did say it appears the train cars involved were transporting flammable materials. After providing a caveat stating he has some explosives training, he does not hold himself out to be an "expert." But it seemed to him that the guardrails near the tanker cars are blown outward, which could indicate the explosion occurred on top of the bridge deck.
I've been looking at the Kerch Strait bridge explosion and thought I'd make a thread of things I've noticed.

Firstly: the explosion affected the Ukraine-bound lane of the bridge at approximately 45.300105, 36.513240. pic.twitter.com/AgkUvfP4Kr

— Nick Waters (@N_Waters89) October 8, 2022
Russian Response
After the explosion, some reports indicated that what now appears to be a foreboding silence descended upon the upper echelons of Putin's regime. However, that ended on Monday morning when bombs and missiles rained down in cities across Ukraine.
Claiming the attack was carried out by Ukrainian forces, Putin equated the government in Kyiv with a terrorist organization to justify his response. He also said this course of action was suggested to him by the Defense Ministry and was "a plan of the Russian General Staff, a massive strike by Russia's long-range air-, sea-, and ground-based" forces, according to the state-run Tass news outlet.
Putin also announced precision weapons were used in the attack targeting the electrical grid and military targets. Ukrainian President Volodymyr Zelenskyy is telling a different story to the world at large.
According to the Ukrainian military, upwards of 80 cruise missiles and two dozen drones were used in the attack on power plants and civilian targets. Anton Gerashchenko, an advisor with Ukraine's Ministry of Internal Affairs, posted a graphic in his Twitter feed claiming 45 residential buildings, three schools, and five healthcare buildings were destroyed in Kyiv alone.
Schools, kindergarten, hospital and cultural institutions are obviously decision making centers, right? pic.twitter.com/v1UKWUCozV

— Anton Gerashchenko (@Gerashchenko_en) October 10, 2022
President Joe Biden released a statement condemning the Russian attack that "killed and injured civilians and destroyed targets with no military purpose," saying this is just another demonstration of the "utter brutality of Mr. Putin's illegal war." The White House announced that Biden spoke with President Zelenskyy and promised the United States would continue to provide defensive weapons to Ukraine.
Copyright 2022, WatchDogReport.org