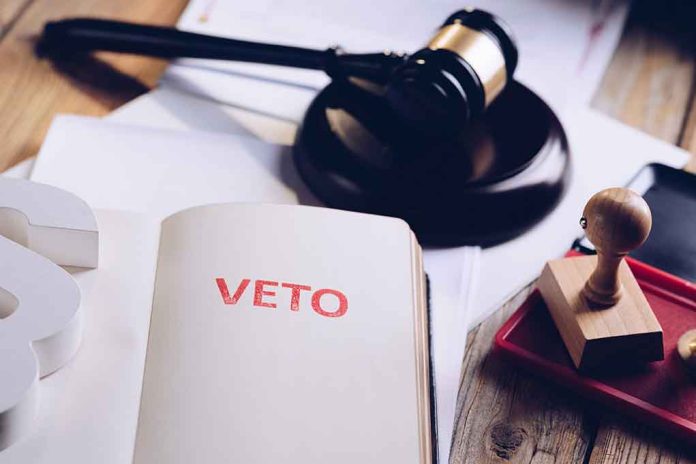 VETO Ordered – Top Democrat SHUTS DOWN Leftist Bill!
(WatchDogReport.org) – California SB 57 was approved by both the Assembly and the Senate, and would have allowed several counties and cities to set up sites where people could inject or use drugs in a "safe" environment. However, Democratic Governor Gavin Newsom elected to veto the bill and send it back to the legislature unsigned.
BREAKING: California Gov. Gavin Newsom—who has long called the war on drugs a failure—just vetoed a bill to allow safe consumption sites for illegal drugs that harm reduction advocates say could save lives.https://t.co/0iqGK4t6Ry pic.twitter.com/u2sozy5WCQ

— Tom Angell 🌳📰ⓥ (@tomangell) August 22, 2022
In an update published on August 22, the governor's office listed 20 pieces of legislation that he approved and only one that he did not sign: SB 57. In his letter advising the state Senate of his decision, he spoke about his long-standing support of "harm reduction strategies."
Newsom then wrote that the bill as written, "could induce a world of unintended consequences" and "could work against" the intended purpose of improving safety and health in the urban centers of the state. He advised that he has told the state secretary of Health and Human Services to bring officials from those areas together to create a comprehensive plan for such a program.
Dan Walters of CalMatters, which bills itself as "a nonpartisan and nonprofit news organization," penned an op-ed that provides what he believe is an explanation for the veto. He thinks it's an indicator that the governor plans to mount a campaign for president in 2024 and is afraid of how the rest of the country, particularly those in red states, would view this controversial law. He quoted another political analyst who quipped that Republican ads would tag him as "Governor Heroin."
Copyright 2022, WatchDogReport.org