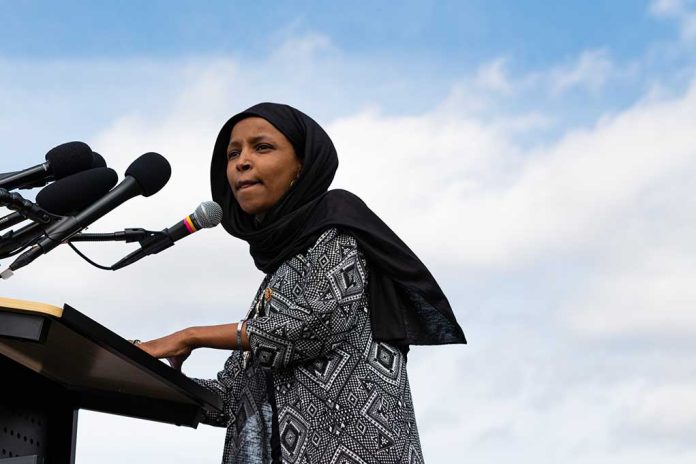 (WatchDogReport.org) – Rep Ilhan Omar (D-MN) is a rising star among Democrats. As part of "The Squad," a group of younger, Progressive congresswomen, she fundraises well. She also knows how to play politics to her advantage. Omar's husband, Tim Mynette, co-owns a consulting firm called the eStreet Group that owes much of its success to his wife's position and influence. After some controversy and a hiatus from politics, Mynette's firm is at it again, taking cash from a committee linked to his wife.
The Controversy
The eStreet Group took in $3.7 million during the 2020 campaign season, and Rep. Omar's campaign contributed $2.9 million of that. While there's nothing particularly uncommon about a firm like Mynette's working for a congressional campaign, the ties were far too close for many, and Omar decided she'd cut ties with the firm after her re-election.
Mynette's firm, in return, decided politics wasn't for them. It cut and run from the game, landing in the wine and beverage industry. Omar never admitted any wrongdoing, but instead praised the firm for its hard work and ties to her district. She claimed that the money went to bona fide services to help her campaign on the ground as well as online and that her husband made no profit other than his salary. Ken Martin, chair of the Minnesota Democratic-Farmer-Labor Party, said the firm is well-respected and offered no apologies for using its services, according to Fox News. It would appear the Democrats are firm in their resolve.
Federal law dictates that campaigns can pay family members a salary, but they must actually provide a service at fair market value.
Back in the Saddle
The eStreet Group walked away after banking millions, and it seemed as though it learned a lesson. With midterms approaching, however, the firm is right back in action, this time taking a cash payout from a committee linked to Omar. The eStreet Group took in $15,000 for research and consulting from the Minnesota Democratic-Farmer-Labor Party's federal committee.
The payment came shortly after Omar's campaign transferred that same amount of money to the committee. According to the filings, the congresswoman's campaign and her husband's firm never officially made a connection, which could make it easier for all involved to pretend there's an actual separation between the firm and Omar.
The eStreet Group's wine and beverage website now sits empty while the political arm's site, dormant since 2020, is back up and running. It appears the family business will continue to do what it does best.
Copyright 2022, WatchDogReport.org