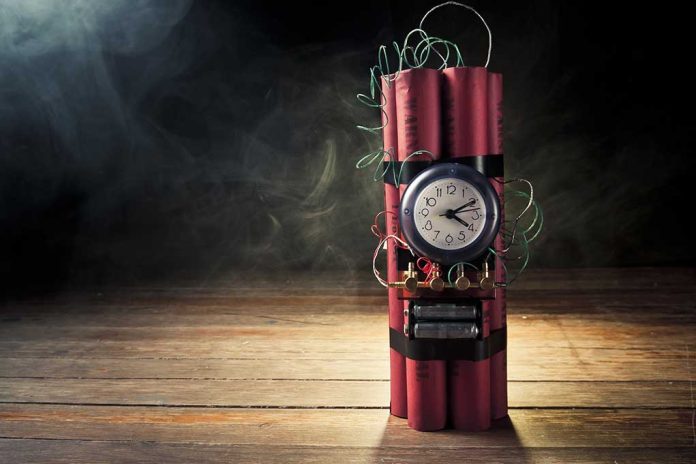 Terrorist BOMBING – Conservative Group Targeted!
(WatchDogReport.org) – A far-left extremist group may be responsible for firebombing a Christian Pro-Life pregnancy center in Amherst, New York, just outside of Buffalo. The center, owned by CompassCare, had its windows broken and its outside walls littered with graffiti before the terrorists set the building ablaze.
The firebombing of a pro-life pregnancy center in WNY by a militant pro-abortion group is an act of terrorism that should be forcefully condemned by state leaders.
Violence is a crime, not political dissent. We must find and prosecute those responsible.https://t.co/batQSFjsMr

— George Borrello (@SenatorBorrello) June 7, 2022
"Jane was here" was spray-painted in several places, leading authorities and CompassCare to believe that the arson was the work of Jane's Revenge. The group's name is most likely a reference to "the Jane Collective," a pro-abortion underground group from Chicago in the pre-Roe v Wade days. According to Influence Watch, the group claims membership nationwide but has no verified infrastructure or registry.
CompassCare CEO Jim Harden told reporters, "this is the face of abortion," according to The Buffalo News. Harden says the company won't be swayed by terrorists and that they absolutely will rebuild the center. He says the center and CompassCare are about life, and the people who would do such cruel things accomplished nothing except to prove that they are not. He said the center is there to save as many lives as possible, regardless of these people's apparent need to try to stop them. "They did not succeed," Harden said.
Amherst Supervisor Brian J. Kulpa said the fire was unjustified and that the perpetrators should be prosecuted, noting that two volunteer firemen sustained injuries fighting the blaze. Kulpa says no matter what a person's political views may be, they have no right to perpetrate violence.
Copyright 2022, WatchDogReport.org