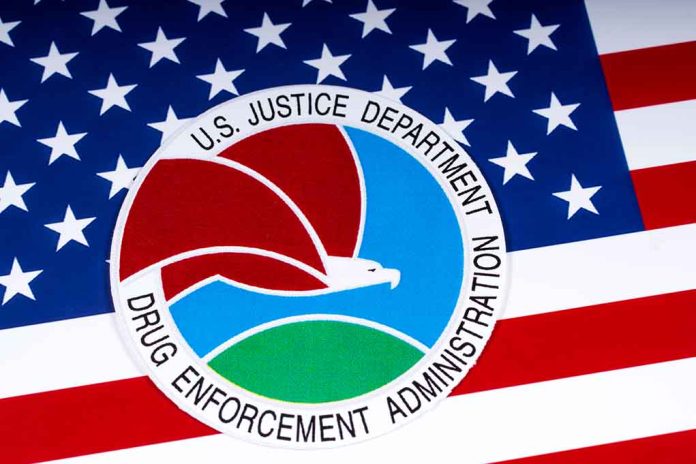 Feds Make RECORD FIND – A Massive Seizure!
(WatchDogReport.org) – Drug use and addiction are nothing new. More recent examples range from the opium dens of the 19th century to the 1960s and 70s when it became an ingrained part of pop culture. Songs like "Lucy in the Sky with Diamonds" by the Beatles caused controversy because of supposed references to LSD.
In the 21st century, Americans are dying by the thousands — overdosing on the powerful opioid fentanyl. A recent seizure of the deadly narcotic by the Los Angeles office of the Drug Enforcement Agency (DEA) has set records, shining a light on the severity of the issue.
#DEA #LA makes record-breaking bust of 1 million fake oxycodone pills containing fentanyl, which is the largest seizure of #fentanyl pills DEA has made in CA. The pills were intended for retail distribution & est. street value of $15-$20 million💵

READ➡️ https://t.co/kn3uFOtC64 pic.twitter.com/RzEvdkMYm6

— DEALosAngeles (@DEALOSANGELES) July 14, 2022
DEA agents executed a search warrant in Inglewood, California, and found approximately one million pills laced with the extremely dangerous substance. Authorities believe the narcotics were brought into the country by the Sinaloa Cartel, which some experts believe to be the largest drug trafficking group in the entire Western Hemisphere.
According to the DEA press release, the pills have a street value of $15-$20 million and could have had an incredible toll on lives lost in the area. The CDC says that fentanyl — a synthetic opioid — is 50 times more potent than heroin and 100 times stronger than morphine. It's estimated to count for 150 overdose deaths per day in the United States.
Copyright 2022, WatchDogReport.org