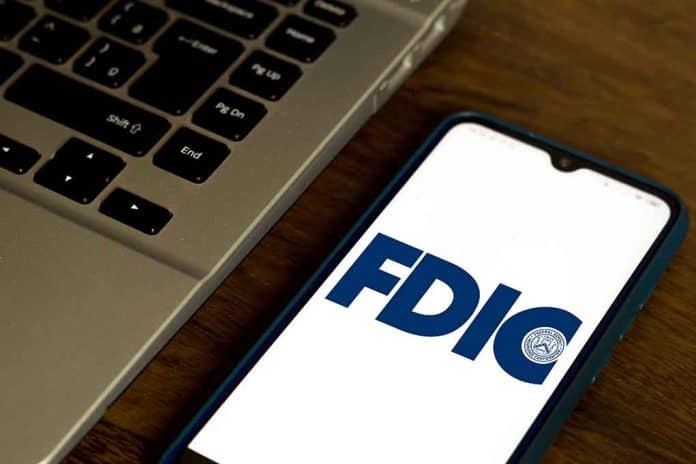 (WatchDogReport.org) – Certain positions within the government are supposed to be above partisan politics. These jobs usually come with terms that span multiple administrations. Chairing the Federal Deposit Insurance Corporation (FDIC) is supposed to be one of those professions, but the chairwoman recently issued her resignation due to conflict with Democratic regulators.
In June 2018, then-President Donald Trump appointed Republican Jelena McWilliams to chair the FDIC, the agency responsible for insuring bank deposits and supervising banks. Her term was supposed to last five years, but she sent a letter to Biden informing him she was resigning, effective February 4.
The Republican chairwoman of the Federal Deposit Insurance Corporation, or FDIC, said on Friday that she was stepping down after clashing with Democratic banking regulators. Jelena McWilliams's departure adds a second vacancy to the five-member board. https://t.co/5M2zNsd3FO

— The New York Times (@nytimes) December 31, 2021
McWilliams' resignation comes after she clashed with Democratic members of the FDIC board. In December, Liberals on the board voted to take a closer look at bank mergers, possibly delaying some of them. The former chairwoman blocked the Democratic board members' attempt by refusing to publish that proposal.
In a December 15 op-ed, McWilliams called the Democrats' moves to regulate the banking industry "a hostile takeover" and an "attempt to wrest control from an independent agency's chairwoman" when the presidential administrations changed. Biden has also purged or driven out other Trump appointees, like former Social Security Administration Director Andrew Saul.
Do you think the president is trying to launch a hostile takeover?
Copyright 2022, WatchDogReport.org