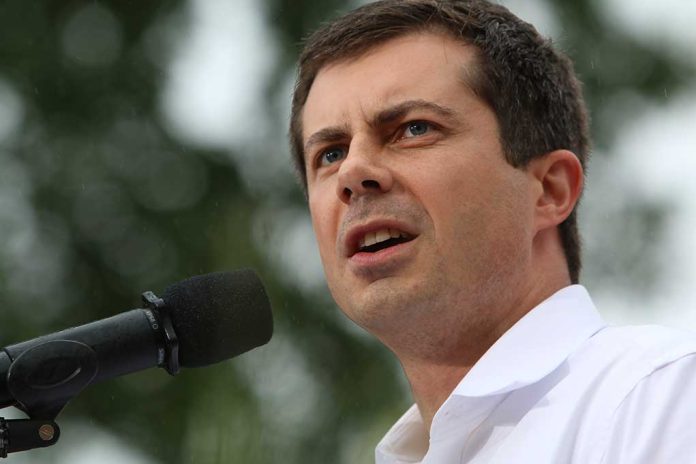 (WatchDogReport.org) – On the evening of February 3, the Norfolk Southern train traveling through East Palestine in Ohio derailed and burst into flames. At least 50 cars were carrying dangerous chemicals, and 10 of those slipped off the tracks. The fires were still burning the next day, thousands were under mandatory evacuation orders, and East Palestine Mayor Trent Conaway declared a state of emergency. Epidemiologist Eric Feigl-Ding stated the incident "nuked [the] town with chemicals." Now, some are looking to Transportation Secretary Pete Buttigieg for answers as to how this could happen — even Liberals.
On February 13, Representative Ilhan Omar (D-MN) called on Congress to look into the matter and demanded action from Buttigieg. The lawmaker said the incident would likely have a negative impact on the locals and surrounding areas for "decades." Omar questioned why the story was seeing very little air time in the media.
East Palestine railroad derailment will have a significant negative impact on the health and wellbeing of the residents for decades and there is almost zero national media attention.

We need Congressional inquiry and direct action from @PeteButtigieg to address this tragedy. https://t.co/I42g4fXWsz

— Ilhan Omar (@IlhanMN) February 13, 2023
The transportation secretary addressed the issue on Twitter a couple of hours after the Minnesota Democrat's post. Buttigieg created a thread detailing what the department has done and plans to do next. He said the Department of Transportation (DOT) and The National Transportation Safety Board (NTSB) were on site soon after the accident. The official also assured that the Environmental Protection Agency (EPA) is monitoring indoor and outdoor air quality in the areas to check for exposure and has gone door to door checking homes in the area.
I continue to be concerned about the impacts of the Feb 3 train derailment near East Palestine, OH, and the effects on families in the ten days since their lives were upended through no fault of their own. It's important that families have access to useful & accurate information:

— Secretary Pete Buttigieg (@SecretaryPete) February 14, 2023
Despite his posts, Fox News' Brian Kilmeade stated people in the area aren't seeing the movement "Mayor Pete" claims is on the ground working, and they aren't seeing the secretary himself, either. Conservative commentator Katie Pavlich agreed, blasting Buttigieg for his presumed "lack of attention" and backing Omar for her assessment of the situation.
According to Huff Post, the EPA has found contaminants from the locomotive's cargo in the waterways, and they're littered with thousands of dead fish. Authorities are working to keep the chemicals out of the drinking water.
Copyright 2023, WatchDogReport.org