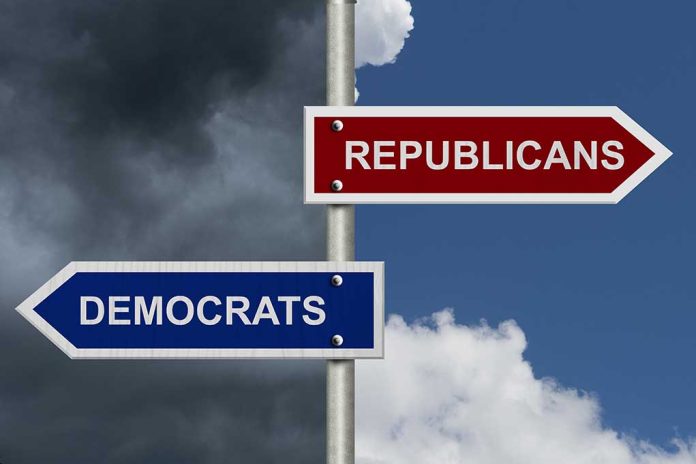 (WatchDogReport.org) – Political affiliation is something that any American can change whenever they feel it's necessary. The fact is, people grow and change, and that means their values, thoughts, and ideals can lead them to align with a different group over time. What might be a bit unusual, is an entire elected body simultaneously switching their political parties at the same time. Yet, that's exactly what happened recently in East Hanover, New Jersey.
On February 7, East Hanover Mayor Joseph Pannullo and the entire township council changed their affiliations from Democrat to Republican. The Daily Record reported the Republican Committee Chairwoman for Morris County, Laura Ali, released a statement about the matter saying the mayor and council members made the switch "after months" of productive talks.
Surprise!

People in this small New Jersey suburb woke up to learn all their local elected officials had quit the Democratic Party to become Republicans. https://t.co/RfE1xa3gOV @wwesthoven @northjersey

— Christopher Maag (@Chris_Maag) February 9, 2023
The group didn't get too specific about what prompted them to make the switch. The mayor, who has led the town for 16 years, said the move would help them better "focus" on issues that affect their local community of about 11,000 people. Pannullo said some "nastiness" in "national politics" helped push them to make this decision. He said the choice is simply driven by a desire to put "East Hanover first."
Local Republicans were elated by the news, welcoming the mayor and the four council members into the fold with "open arms." Assistant state Senate Minority Leader Joseph Pennacchio said he looks "forward to working" with the new Republican group.
Democrats, on the other hand, were "disappointed." The Daily Caller reported Morris County's Chairwoman for the Democratic side, Amalia Duarte, believes the local population has been trending more toward the Left in recent years. Reports noted that, although the town may have more Democrats than it did years ago, Republican voters are still in the majority. In fact, former President Donald Trump won East Hanover in 2020 with 66% of the vote.
Copyright 2023, WatchDogReport.org