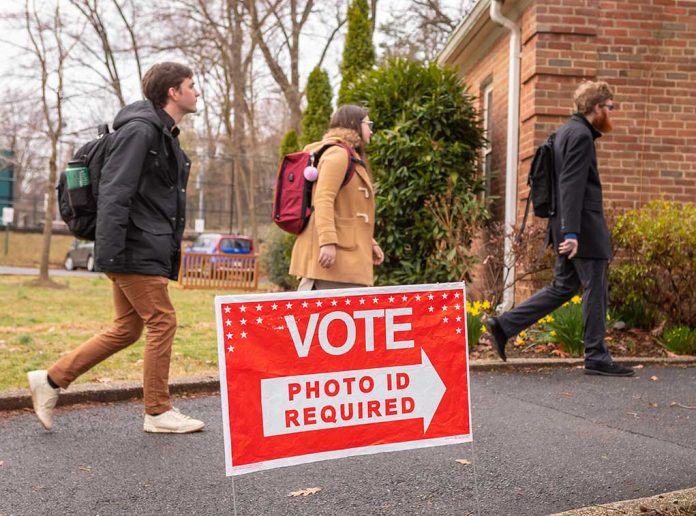 Election THIEVES Caught On Camera – Images Released
(WatchDogReport.org) – In Pennsylvania, as with most states, stealing political signs is a crime. In the Keystone State, the act falls under third-degree petty theft with possible jail sentences and huge fines on the line. Unfortunately, the penalties don't always deter criminals.
On September 4, in broad daylight, brazen thieves stopped right in the middle of an intersection in full view of a security camera. A young woman hopped out of the passenger side of a small black car, sprinted to the corner, and grabbed two signs supporting Dr. Mehmet Oz. The thief then scurried back to the vehicle, and her accomplice sped away in a hurry.
The Media Borough Republican Party immediately condemned the act, posting the video to its Twitter account and publicly shaming those responsible.
Sign stealers are stealing @DrOz signs from lawns in BROAD DAYLIGHT in Media Borough. #mediapa #delco#VoteNov8th #election2022 pic.twitter.com/80TjMX6Vmb

— Media Borough Republican Party (@mediarepublican) September 5, 2022
Dr. Oz's opponent, John Fetterman, got an earful from Allegheny County Councilman At-Large Sam DeMarco. The councilman called on the Democrat's nominee to bring his supporters in line. DeMarco mocked the entire concept of stealing signs from the side of the road as a clear indicator that Fetterman's campaign may be in trouble.
When your supporters stoop to stealing your opponent's signs from yards, you know you're in trouble. Tell them to stop @JohnFetterman https://t.co/x40mt2VoM0

— Sam DeMarco (@sdemarcoii) September 5, 2022
So far, there are no reports of arrests or an investigation in the case, but the Pennsylvania State Police aren't new to the idea of people stealing signs. During the 2020 election cycle, the issue was so widespread, the agency felt it necessary to remind citizens of the possibility of harsh penalties for something that hardly seems worth the risk.
Copyright 2022, WatchDogReport.org