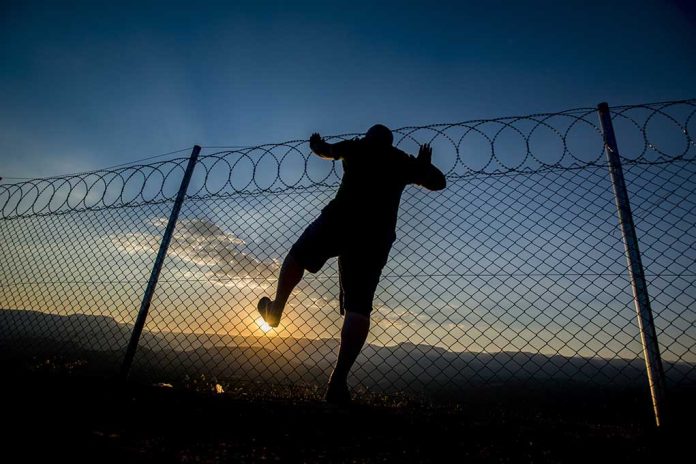 (WatchDogReport.org) – There have been no immediate solutions from Border Czar and Vice President Kamala Harris to control the immigration crisis in Mission, Texas. Meanwhile, drone footage shows about 1,000 migrants sheltering under a bridge in triple-digit temperatures.
Not only are these people left outside in the sweltering heat with overwhelmed border agents. But, US Attorney General Merrick Garland is also trying to prevent Texas Governor Greg Abbott (R) from rounding up illegal immigrants that slip through the cracks.
NEW: This is the largest group of migrants we've ever seen being held by Border Patrol under Anzalduas Bridge in Mission, TX. Looks like it could be up to 1,000 people. We can only get a look at the area with our drone. There's a popular Rio Grande crossing area nearby. @FoxNews pic.twitter.com/AsAygsO966

— Bill Melugin (@BillFOXLA) August 1, 2021
The number of families with children at the US perimeter increased a whopping 25% in July compared to June. There's no telling how many COVID-19 positive people are flooding into the US, either. But, with the refusal to implement any real plan to stop the influx of migrants into the Lone Star State, border patrol has little choice but to wade through the crowd as quickly as they can.
Unfortunately, that can mean they wait days or weeks in inhumane conditions for processing — and agents just don't have enough space left. It's gotten so bad that Texas Democratic Representative Henry Cuellar wants a "new czar to tackle the surge."
Between the large numbers of unchecked people crossing the line into the United States during a pandemic and the poor waiting circumstances, he clearly has a point.
Copyright 2021, WatchDogReport.org