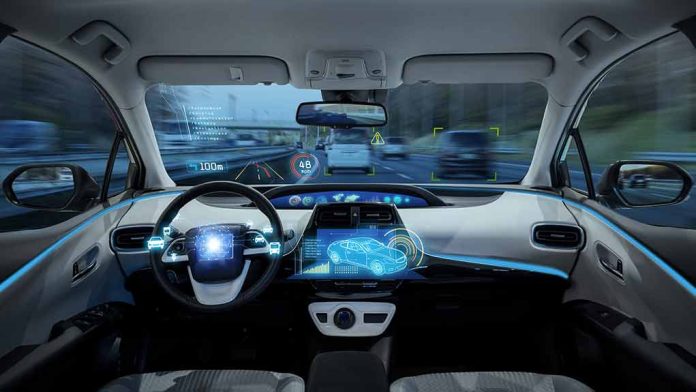 (WatchDogReport.org) – Traffic was briefly snarled near the University of Texas in Austin campus last Saturday night after at least 20 Cruise EV "robotaxis" descended on the same intersection near West Campus, creating a driverless traffic jam, Electrek reported.
A Cruise "robotaxi" deployed to the area caused gridlock on the narrow streets when it got stuck while turning in an intersection, congesting the flow of traffic in three different directions. Adding to the standstill were the other Cruise "robotaxis" that arrived in the area to meet the elevated demand that followed Saturday's UT Austin football game.
According to Cruise, because there were only limited routes to head north and south through the city, a detour led all the "robotaxis" to the same intersection simultaneously, making it impossible for Cruise to manually reroute them fast enough.
Once the company became aware of the traffic jam, it worked to resolve the issue, and its "robotaxis" were able to exit the area autonomously.
The traffic jam was captured on cell phone video by UT Austin civil engineering student Nico Prada, who told KXAN that since it was a Saturday night after a home game, there were a lot of people trying to leave the West Campus at the same time. Additionally, the area was packed with "drunk college students" in need of a ride, Prada said.
One of the videos of Saturday's driverless traffic jam caught the attention of Zo Qadri, a member of Austin's City Council.
Qadri said while the concept of driverless EV taxis is good, it isn't yet "ready for prime time." He said the last thing he wants to see is a pedestrian or cyclist getting struck and injured by one of Cruise's "robotaxis." Qadri said he and his fellow city councilors on the Austin Mobility Committee plan to address the issue next month.
In a statement to KXAN, Cruise explained that the incident occurred in a "crowded, challenging environment" but added that no pedestrians were hurt and no other vehicles or property was damaged. The company said it has taken "proactive measures to relieve the crowding in the area."
Copyright 2023, WatchDogReport.org