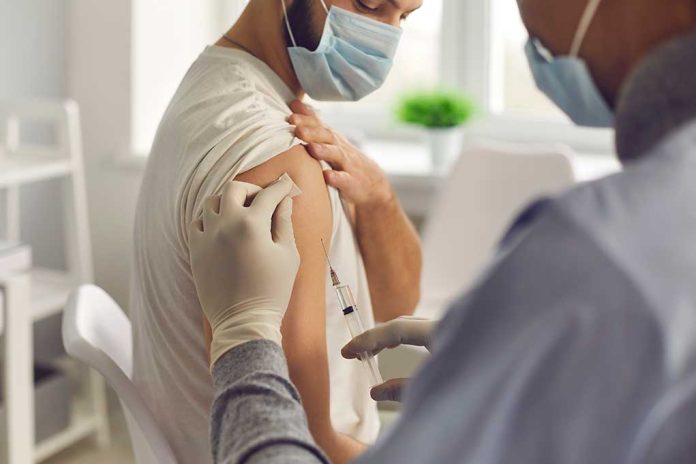 (WatchDogReport.org) – When the COVID-19 pandemic began, Dr. Anthony Fauci was a trusted voice in America. He stood in the White House Briefing Room with former President Donald Trump every day and explained what was happening in the country. As the head of the US National Institute of Allergy and Infectious Diseases, he is the top infectious disease doctor in America and he was taken seriously.
Then, the trust the American people, Conservatives in particular, had in Fauci started to slip. The doctor seemed to always be saying things that contradicted Trump. It was almost as if he wanted to keep the country locked down. Soon, the 45th president also grew annoyed with him. By the time Trump left office, Fauci was barely in the spotlight. But, as soon as President Joe Biden took office, the doctor was back on cable news networks, writing a book and telling citizens of the country what to do.
Most recently, Fauci was especially rude when he spoke out about vaccinations.
Get Over It
On July 7, Fauci appeared on MSNBC to speak with host Chris Hayes. The television personality asked the doctor what he thought people should be doing to encourage vaccinations. He responded, "Whatever it takes."
Fauci went on to say that he was trying to "save lives," and that is why he wants people to receive the vaccine. He attacked some Conservatives who are upset about President Joe Biden's door-to-door vaccine campaign. Republicans think it is government overreach. They have said they do not need officials knocking on their doors and bothering them at home. The doctor said people in their communities will be knocking, not the government (still strangers knocking on doors).
Then, Fauci said people who are worried about the vaccines need to just "get over it." He said they need to get over the "political statement" they are making by not receiving the vaccine. In his opinion, those people need to do what they can to save themselves and their families.
The Condescending Doctor
What's ironic about the statement from Fauci is that he is the one making the issue political. Trump is the person responsible for developing the vaccine. He has said that he received it. Clearly, the vaccine is not political. The doctor is making an assumption that Conservatives are just refusing the vaccine because they are partisan. That's a huge assumption to make and, frankly, it isn't Fauci's business what they are doing. It isn't Biden's business either.
The American people will do what is right for their families. They don't need the government harassing them into submission.
Copyright 2021, WatchDogReport.org