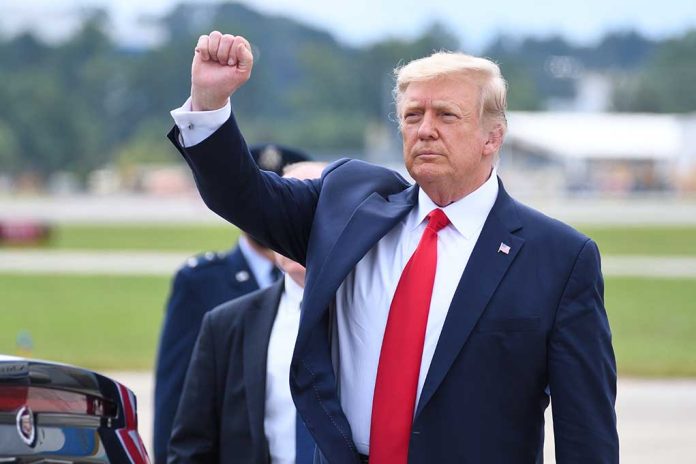 (WatchDogReport.org) – Rep. Liz Cheney (R-WY) is not exactly popular within the Republican Party these days. She's one of 10 members of the party who voted to impeach former President Donald Trump. Afterward, she spent months trashing him and lost her leadership position over her actions. Trump is now seeking revenge for her betrayal.
Cheney is up for reelection in 2022, and Trump has said he wants her out of office. In order to make that happen, a member of her party will need to beat her in the primary; Trump is hoping to help make that happen. This week, the former president is going to meet with the two conservatives, state Rep. Chuck Gray and attorney Darin Smith, who are challenging Cheney at his Bedminister, NJ golf club.
Former President Donald Trump has made unseating Rep. Liz Cheney from office a priority, and will next week meet with two potential challengers in the ongoing quest to find a challenger that can take the powerful Republican down in the 2022 primary race. https://t.co/H4ETdqHk4Y

— Newsmax (@newsmax) July 23, 2021
Trump has made kicking Cheney out of office one of his top priorities. He's called her a "bitter horrible human being." His son Donald Trump Jr. is also helping to find a potential replacement for the congresswoman. He's going to be at the meetings with his father.
Cheney is still raising money hand over fist despite her falling out with Trump. She raised $1.54 million from January through March, then $1.88 million from April through June. According to her campaign, she had over $2.8 million in her campaign coffers before the June fundraising numbers were out. Whoever Trump chooses to endorse will need to be to withstand her well-funded attack.
It's unclear when the former president plans to announce his endorsement.
Copyright 2021, WatchDogReport.org