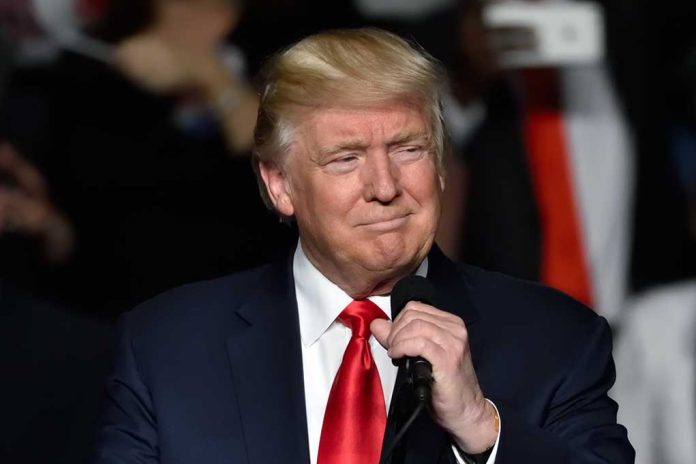 Ocasio-Cortez HUMILIATED – Gets Shocking "Endorsement" From Trump!
(WatchDogReport.org) – Columnist Peter Lucas penned an op-ed in September 2019 where he may have summed up President Donald Trump better than most when he wrote: "Trump often personally behaves as a blowhard, braggart [sic] and bully, but he is also the most effective president the country has had since Harry Truman." So, it's not hard to imagine the grin on his face when he leveled his sarcasm at several Democrats, especially one whose congressional district (NY-14) covers parts of The Bronx and Queens in New York City.
Let's Go AOC?
Yes, that AOC. Representative Alexandria Ocasio-Cortez (D-NY), the self-proclaimed Democratic Socialist, founding member of the "Squad," and pusher of the far-left liberal agenda. The ex-president released a statement saying that he was "thrilled to give her my endorsement," of course he then went on to point out to everyone that her ideas "would be a disaster for America…"
Troll Level 11 pic.twitter.com/VNVXpCGU85

— Sebastian Gorka DrG (@SebGorka) August 19, 2022
Though it's entertaining to see the two of them butting heads in the virtual realm, it's also amusing when their proxies get involved. His children, Don Jr., Eric, and Ivanka, along with his son-in-law Jared Kushner, made sure they had his back. Ivanka and AOC got into an infamous Twitter war of words over the Congresswoman's Green New Deal socialist manifesto.
Other "Endorsements"
AOC was not alone in receiving the president's somewhat less-than-sincere backing, as he posted two more on his Truth Social account. Her fellow Democrats running for seats from other NYC boroughs found themselves targeted as well.
Representative Carolyn Maloney is the incumbent in NY-12, which encompasses parts of Manhattan's East Side, Brooklyn, and another section of Queens. When President Trump was merely a real estate mogul, he donated to many political campaigns of both Republicans and Democrats, including hers. He praised her as a "wonderful person" and reminded the world that at one point, "she begged for a check… [and he] gave her many."
If Carolyn Maloney wants to lead the congressional impeachment investigation against Donald Trump, then she should follow the lead of almost every other Democrat who took campaign contributions from Trump — give it back, or give it to charity!https://t.co/QegwFymc04

— Suraj Patel (@surajpatelnyc) November 11, 2019
Trump next turned his sights on attorney Dan Goldman, who is on the ballot for the August 23 Democratic primary for New York's 10th District, which covers parts of Manhattan's Upper West Side, Hell's Kitchen, and the Financial District. The president "strongly" endorsed him, singing his praises as "honorable, fair, and highly intelligent," even though he "beat him badly" while the lawyer was heading up the impeachment committee.
There's no denying that former President Trump is NOT a politician and expresses himself in a straightforward manner. Could this be what attracts so many Conservatives to him? Could it be they're sick of the same old-same old establishment politics that run rampant in Washington, DC? If so, what does that mean if he decides to run again in 2024?
Copyright 2022, WatchDogReport.org