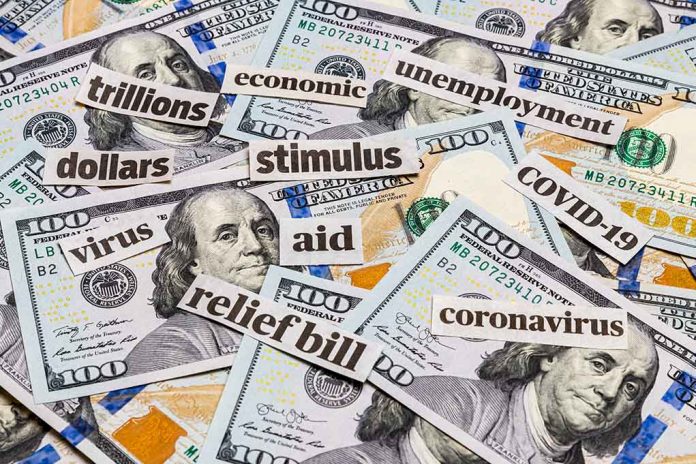 (WatchDogReport.org) – Since the COVID-19 pandemic first arrived in 2020, the legislative branch has poured no less than $5.2 trillion into the economy. That money, meant as a safety net for the American people and American small businesses, was an instant target for fraudsters. So far, the Department of Justice (DOJ) says more than $8 billion was stolen from the American people.
The programs abused include stimulus checks, Paycheck Protection Program (PPP) funds, unemployment compensation, and a slew of other programs designed to help average citizens and small businesses weather the lockdowns and closures of the first year of the pandemic. Large-scale criminal enterprises and foreign entities had plenty of opportunities to pilfer funds
NEW: W/ @PeteWilliamsNBC DOJ has named Kevin Chambers to be the chief prosecutor for Covid-19 fraud. He told NBC News he's setting up teams to analyze "an almost shocking amount of data" that could bring new charges. https://t.co/OiUMzrwREK

— Sarah Fitzpatrick (@S_Fitzpatrick) March 10, 2022
Attorney General Merrick Garland says the Justice Department is committed to applying the full weight of the law "to combat and prevent COVID-19 related fraud." The DOJ released a statement announcing a new director for COVID-19 fraud enforcement. Associate Deputy Attorney General Kevin Chambers takes on the new role, promising to bring those responsible for bilking the taxpayers in the nation's hour of need to justice.
So far, over 1,000 people have been charged with COVID relief-related crimes, with more than $1 billion seized. There are currently more than 1800 people facing civil litigation for misusing funds totaling more than $6 billion. The DOJ plans to use advanced data analysis and tracking technology to connect the dots and bring those criminally liable before a judge.
Copyright 2022, WatchDogReport.org