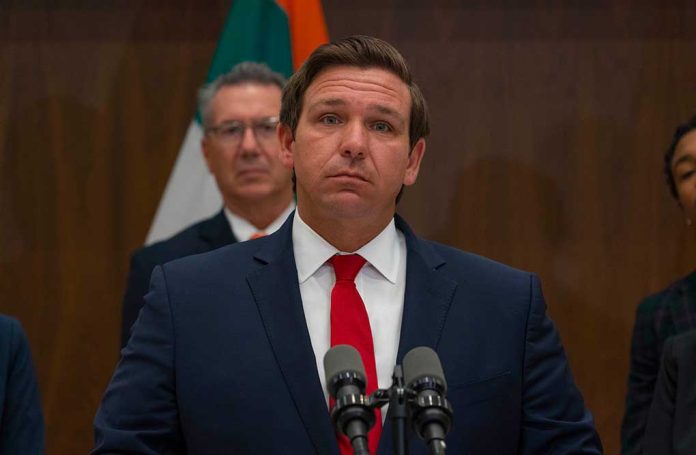 Ron DeSantis Enemy FIRED – They're Forcing Him Out!
(WatchDogReport.org) – Florida's Governor Ron DeSantis (R) signed the "Parental Rights in Education" bill into law, which quickly became known as the "Don't Say Gay Law" as activists for the LGBTQ+ community put it. Arguably the best-known corporation operating in the Sunshine State is Disney, and CEO Bob Chapek took some flack from employees and fans who identify with that group because they felt he was slow off the mark in speaking out against it. Now, it appears he's making waves again by firing an outspoken exec.
Chapek is in the news again because he abruptly fired Peter Rice, the chairman of Disney General Entertainment Content. Industry insiders say he was almost as solid of an executive as there is. Early in the battle between the House of Mouse and the governor's office, Rice called the law "a violation of fundamental human rights," and condemned what he framed as an attack on a person's choice of identity.
In a surprise shakeup, Disney fired Peter Rice, a top television executive, just months after renewing his contract, according to people familiar with the matter https://t.co/8vIeU4Mye7

— The Wall Street Journal (@WSJ) June 10, 2022
Some say that boardroom politics may have been at play as Chapek is in the last year of his current contract without a new offer on the table, while Rice was just rehired less than half a year ago with a very handsome bonus. His name was floating around as a possible replacement for the current CEO, which has led to speculation that he may have decided it was time to say "off with his head" in an attempt to eliminate a competitor.
That leads to two real possibilities as to the reason for Rice's departure. First, he jumped to the defense of the LGBTQ+ crowd more quickly and emphatically than his boss. Second, he was a threat to the man's continued leadership of Disney. The question is, which one is it? Perhaps both?
Copyright 2022, WatchDogReport.org