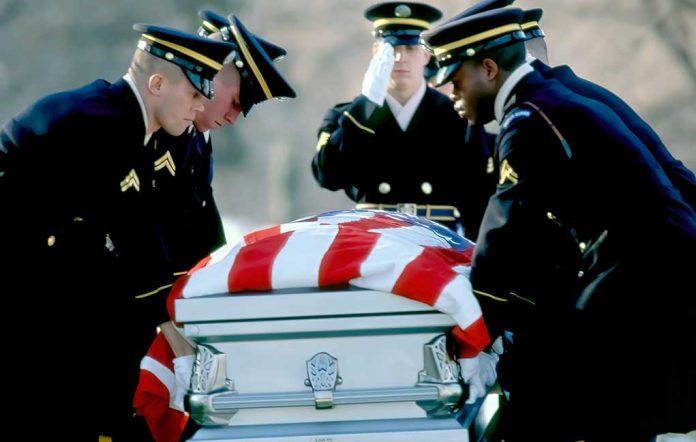 Ron DeSantis Reports TRAGEDY – Forced To Step Away
(WatchDogReport.org) – Some politicians speak of their respect for those who serve on the thin blue line, but fancy speeches are about as far as they go. Florida Governor Ron DeSantis (R) just proved that at least some put politics on the back burner when he canceled an appearance at a $25,000 per plate fundraiser to attend the funeral of a Florida Department of Law Enforcement agent.
Florida Gov. Ron DeSantis canceled a political fundraiser for Rep. Lee Zeldin Sunday night to attend services for a Florida Department of Law Enforcement agent killed in the line of duty.https://t.co/4iauxlZDJZ

— The Silent Majority (@siIentmajority) August 29, 2022
Congressman Lee Zeldin (R-NY) is running for governor of the Empire State against current officeholder Kathy Hochul, who took over when Andrew Cuomo was forced to resign in disgrace. It was his campaign that Governor DeSantis had to beg off from so he could be at the funeral mass for fallen Special Agent José Perez, who was killed while on duty by a suspected impaired driver on August 2.
Perez was answering an alarm call when his vehicle was hit by a Ford F-150, allegedly driven by Ysmael Sandoval, 35, and spent the following 18 days in the hospital fighting for his life before succumbing to his injuries. The pickup truck's driver is currently facing charges of DUI manslaughter and vehicular homicide.
DeSantis had previously issued a statement giving an overview of Perez's service in both the military and law enforcement, and ordered flags across Miami-Dade County to fly at half staff on Monday, August 29. While politics is obviously important to the governor, perhaps including a presidential run in 2024 should President Donald Trump not be in the race, he also has shown that he's willing to back his words with action.
Copyright 2022, WatchDogReport.org