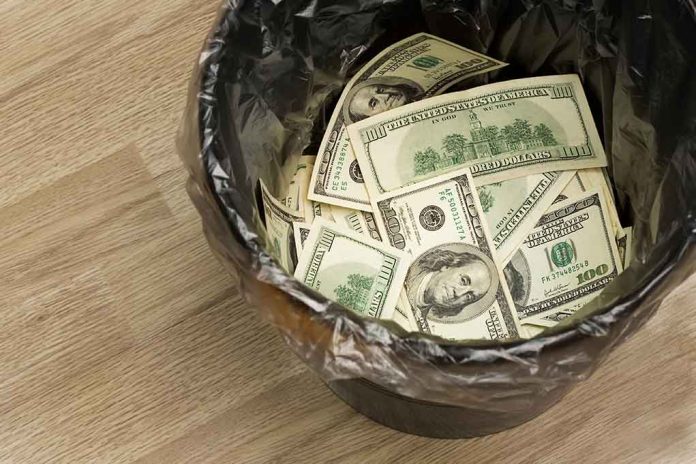 Democrats Wasted Nearly $65 Million on One Specific Race
(WatchDogReport.org) – For most of the country, the 2022 midterm elections are done, save for a few, like a runoff election for the Georgia Senate seat between former NFL running back Herschel Walker and incumbent Rep. Raphael Warnock (D-GA). Now, the postmortems begin with analysts looking at what went right for candidates, what went wrong, and just how much money went into some of the battleground state elections.
Big Bucks, No Return
In Wisconsin, the battle for a seat in the United States Senate was waged between Democratic Lieutenant Governor Mandela Barnes and the incumbent, Senator Ron Johnson (R-WI). Both raised tens of millions of dollars through their official campaigns, but a great deal more "outside spending" was put in play by groups not directly involved.
According to the nonpartisan, nonprofit group OpenSecrets, whose mission statement says it "track[s] the flow of money in American politics," nearly $65 million in outside money was spent on Barnes' behalf. On November 9, he officially conceded the race.
Dark Money
In 2010, the Supreme Court (SCOTUS) ruled in the case of Citizens United v. Federal Election Committee that the First Amendment of the Constitution prohibits the government from putting limits on how much money corporations, nonprofits, labor unions, etc., can spend on political campaigns. It opened the floodgates that have created a boon for television stations across the country, selling commercial time for a seemingly endless parade of ads between segments of TV shows.
George Soros is a name well-known to those who keep an eye on politics in America. A Hungarian-born Jew, when Adolph Hitler came to power, his father sent him to live a lie posing as a Christian who had been adopted. He freely admitted during a 1998 interview on CBS's 60 Minutes how during that time, as others were being loaded onto train cars in Budapest headed to concentration camps, he went out "and helped in the confiscation of property from the Jews." This is one man the Democrats are happy to take money from.
A much less well-known name, at least to the public at large, is that of the Swiss billionaire Hansjörg Wyss, who seems to have the method for turning green money into dark money down to a science. A May 3, 2021, exposé published in the New York Times claimed that between 2006 and 2020, his organizations donated a staggering $208 million to Democrats running for office and progressive groups. He accomplished this by having his main nonprofits donate to a series of other groups that, in turn, make direct donations to Liberals.
This is not to say that Republicans don't get their fair share of money from billionaires who prefer to work from the shadows, as the staggering amount of money spent is totaled from both sides. Breitbart news did a study of the information provided by OpenSecrets and found the following amount of money that was laid out. Here are the top five most expensive Senate races.
Pennsylvania — $312,131,203
Georgia — $254,668,614 (with a runoff election still to go)
Arizona — $202,332,538
Nevada — $186,750,730
Wisconsin — $185,811,066
As horrifying as some of these numbers are, how the money is spent adds an even grimmer cast to it. Of the $65 million spent on behalf of Barnes in Wisconsin, roughly $53 million of it, more than 80%, was spent to attack his Republican opponent. And he still lost.
Copyright 2022, WatchDogReport.org